Polk State College faculty and staff come together and get creative to continue instruction online through COVID-19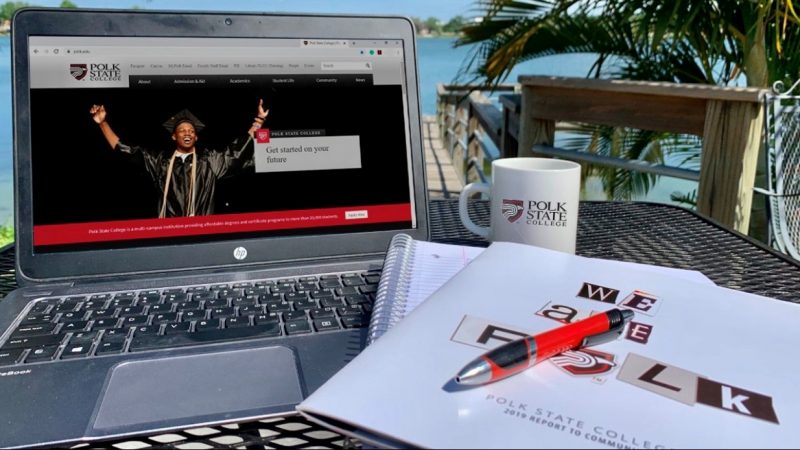 As Polk State College moves to an online learning environment for the remainder of the 2020 Spring Semester to help prevent the spread of COVID-19, faculty and staff have partnered and are taking innovative approaches to convert courses, motivate students, and assist each other through the challenging circumstances.
Classes will resume online on Monday, March 30, including dual enrollment courses and Polk State's three collegiate high schools. For weeks, faculty have been working diligently to make it possible for students to continue their education successfully while remaining healthy, and support staff is assisting with the necessary technology and resources.
"Through this unprecedented time for the College and our community, Polk State's faculty and staff have demonstrated great resilience, as well as collaboration and innovation, a forward-thinking commitment to our students, and an unwavering willingness to help," Polk State President Angela Garcia Falconetti said. "These characteristics are not new of Polk State's faculty and staff, but they have really shined through during this public health emergency, allowing the College to respond quickly to the needs of our students."
Whether its connecting in small groups of 10 or less per Centers for Disease Control and Prevention (CDC) guidelines to conduct Canvas tutorials, or recording sessions of "kitchen anatomy" in the wee hours of the morning when their children are asleep, professors are working around the clock to ensure their students have what they need to successfully continue their education.
For many, it started with polling their students to assess their comfort with learning online and to determine their technology needs.
"The biggest challenge is keeping my students calm, but I keep reassuring them that it will all work out," said Niqui Young-Pringle-Brown, Professor of College Success and Developmental Reading and Writing. "The learning environment may have changed, but the learning objectives remain the same."
She added that the quality and rigor of instruction will also remain the same, and resources are in place to assist, including online tutoring through Canvas. Young-Pringle-Brown has spent the majority of her time working remotely creating ways for students to collaborate, work in groups, and discuss course content while still practicing social distancing.
"I am preparing students to attend synchronous classes through the Canvas conference tool and I am embedding librarians and tutors in my classes that need them," she explained.
Faculty are also being proactive in getting as much course content online as soon as possible to give students a head start on reviewing future assignments, due dates, and more.
Professor of English Darlene Costakis said this approach is proving to be beneficial for students.
"During this time, I am reaching out to students, even more, to assure them that I am here and working with them," she said. "I send out regular emails as courtesy reminders, as well as calendar alerts. Even though it is spring break, I have informed my students that I am available."
She and her colleagues are also there for each other, sharing curriculum, Canvas templates, and more to ease the transition for all and to assist those who may be less tech-savvy than others.
Sgt. Chris Shea, Criminal Justice Program Director and Professor, joked that a recent meeting with Teaching Learning Innovation Center (TLIC) Manager Carleigh Wallpe, "felt as if we were conducting an illegal transaction," in a Publix parking lot due to the College's campuses and centers being closed.
"She was so sweet to bring me cameras and a microphone so that I could pass these on to my faculty members," Sgt. Shea explained of her department's need to video-record lessons for online viewing.
Cody Moyer, Director of Learning Technology, assured faculty and staff that the Learning Technology and TLIC team is here to support them.
"We may be few in number, but our patience is great, and our skills are on-point to meet others where they are to ensure success," he said.
Looking toward the future, Moyer added that the need to move to a completely online learning environment during this public health emergency may have the benefit of making more instructors comfortable with Canvas and online tools.
"The greatest challenge is helping those who are not easily adapted to technology to understand it first and foremost, so they can then begin to use it and see the benefit for use with their students," he said.
Everyone's work is driven by the College's mission to provide access to quality higher education.
Joan Connors, Professor of Nursing for the Bachelor of Science in Nursing Program, which predominately serves practicing nurses, stressed that she is remaining flexible with and supportive of students during this uncertain time, especially as many are working in local hospitals and are immersed in the crisis.
"We are here, even during spring break, answering questions and supporting our nurses as they are on the frontlines caring for the sick in our community," Connors said. "If students have issues with assignments or due dates because of the coronavirus, we want them to know we are here for them."
In addition to their hard work for the College and their students, many faculty and staff are balancing the same responsibilities that students are also facing, including the search for toilet paper and trying to social distance from their children, Sgt. Shea joked.
Moyer noted that his office is "now a corner of my bedroom, where I am interrupted by my three children who all want to be part of what daddy is doing."
Bill Caldecutt, Professor of Biology and President of Faculty Senate, and Lee Caldecutt, Professor of Biology, now refer to their home as the College's "Clermont Campus."
The Caldecutts, already seasoned homeschoolers, talked about teaching their 3- and 9-year-old children while creating online content for their Biology courses. Lessons have ranged from lowercase letters and fractions with exponents, to neurophysiology.
With some dry-erase boards from Lowe's recently installed in their home office and homeschooling room, "our 'campus' now offers classes for students from prekindergarten through college," they said.
Jokes aside, faculty and staff want students to know that they remain steadfastly supportive of their education.
"I want students to know that we are humans too and we understand what they are going through," Sgt. Shea said. "Students – please know that we will work with you and, together, we will make it through."