Polk State Athletes Volunteer at State Special Olympics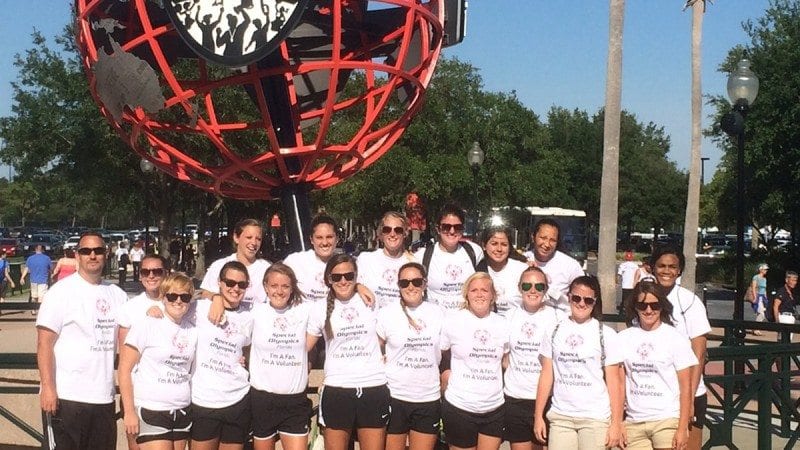 Twenty-four volunteers from Polk State — a mixture of incoming and returning soccer players, coaches and parents — assisted at the Florida Special Olympics State Summer Games earlier this month at the ESPN Wide World of Sports Complex in Lake Buena Vista.
"Volunteering with my team at the Special Olympics was really rewarding for me as an athlete," said Becky Reynolds, sophomore midfielder with the Polk State Eagles soccer team.
Reynolds and the other volunteers helped with scorekeeping and timing during the games. During skills sessions, volunteers had the chance to work with Special Olympians one-on-one, which, said head coach Steve Linamen, was "extremely rewarding."
Two Eagles also played on unified teams in a seven-on-seven competition that matched four Special Olympians with three volunteer athletes.
"I love working with the Special Olympics because I love the participants, their giant hearts, enthusiasm, and especially their sportsmanship," said sophomore defender Meghan Flaherty.
Flaherty, who plans to be a teacher, said the Special Olympics inspired her to explore the world of Exceptional Student Education (ESE) teaching.
"I plan to continue volunteering, and I'm even more hopeful that Polk State can create a unified team to compete at next year's Special Olympics soccer events."
According to Reynolds,  "The atmosphere was great. Sometimes we forget the real reason we are out there playing, and it was nice to be reminded through fellow soccer players. We all share the same passion for soccer as the athletes that were playing, and it was really nice to get involved and help out wherever we were needed."
Special Olympics is the world's largest sports organization for people with intellectual disabilities, with 4.2 million athletes in 170 countries.
According to Linamen, "Volunteering with Special Olympics gives us a different perspective on the sport and helps us love it even more.
"Besides providing the chance to help a very worthy cause, volunteering also helped our team build camaraderie as our new players mixed with and worked alongside our returning players."
The 2014 Polk State soccer team plays its first exhibition game Aug. 12 at 6 p.m. on the Polk State Lakeland campus.