K-college students are invited to Polk State Start Right Campaign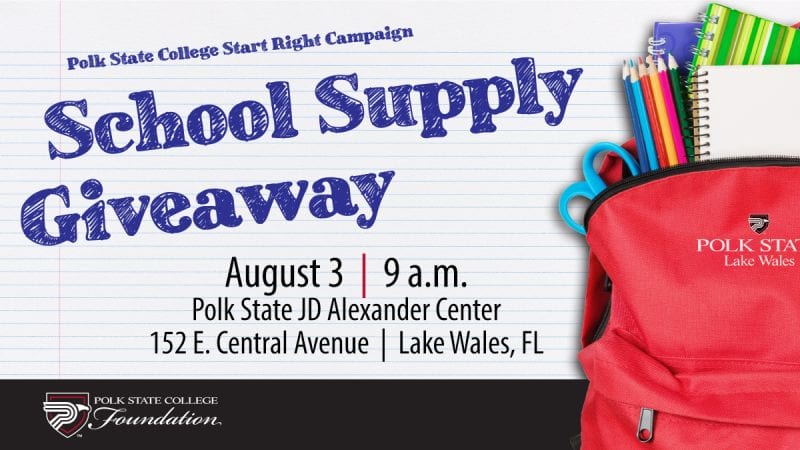 The Polk State College Foundation and Polk State JD Alexander Center will host the third annual Start Right Campaign event Saturday, Aug. 3, at 9 a.m. in Lake Wales at 152 E. Central Ave., where students from kindergarten through college will each be eligible to receive a free backpack stuffed with school supplies.
The event will include food, music, and free haircuts provided by Faded Fresh Barbershop and Urban Trendz Barber Lounge for students between the ages of 5 and 14.
The College launched the Start Right Campaign in 2017 to help Lake Wales families provide school supplies to their students and to thank the Polk County community for its support of the Polk State JD Alexander Center.
"Many families struggle to provide their children with the school supplies they need. We want to lift that burden for parents and ensure that their students are prepared for a successful school year," Polk State JD Alexander Center Director Andy Oguntola said. "We also want to give back to the community to say thank you for the continued support we receive from the residents of Polk County. We are grateful to be an integral part of this community, and we are proud to serve Lake Wales."
The campaign plans to hand out 500 backpacks filled with supplies such as pencils, pens, notebooks, and paper, as well as a note of encouragement written by a Polk State student. One backpack per student will be available while supplies last.
Oguntola expressed sincere gratitude to the many donors, volunteers, and colleagues who have committed to ensuring the event is a success, including CenterState Bank, Cricket Wireless, GST: The Family Church, Duke Energy, Jahna Foundation, the Lake Wales Martin Luther King, Jr. Committee, Lake Wales Medical Center, Lake Wales Police Department, the National Association for the Advancement of Colored People Branch 5109, and Walmart.
"Every contribution plays an important role in transforming lives through the power of philanthropy," said Tracy Porter, Executive Director of the Polk State College Foundation. "Together, we are ensuring that students of all ages are ready for a successful school year."
"Great beginnings lead to great futures," she added, "allowing our community to soar."