Gina-Lou McKinney: Not Just a Pretty Face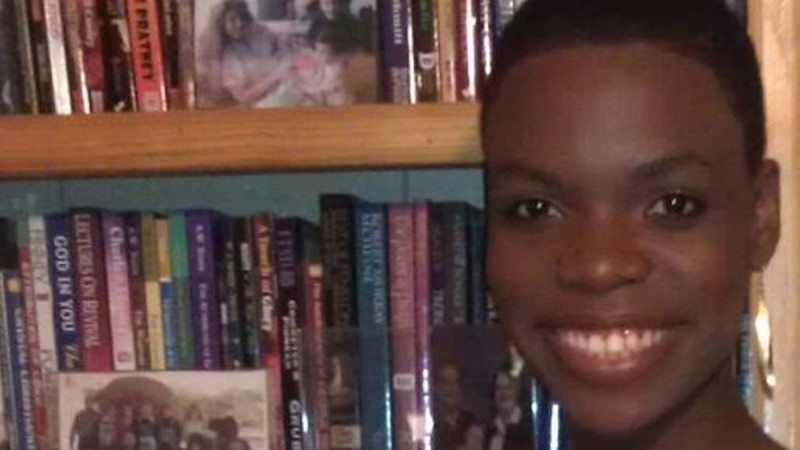 It's a busy afternoon at Polk State College, the Winter Haven campus buzzing with first-week activity, when Gina-Lou McKinney breezes into a conference room, her eyes sparkling, her megawatt smile gleaming and her perfectly tailored suit exuding a professionalism unexpected of a mere 19-year-old.
By her appearance and style alone, it's obvious why McKinney has been selected to grace billboards and brochures for the College — there's just that certain "something" about her. The College marketing team called her "the beautiful girl, but there's clearly more to her than meets the eye.
As she delves into her life story, there emerges a deeper understanding of why she is the perfect face for this institution.
She has known the profound desperation that crushes others' spirits, the kind of hardships that can stomp others' dreams. But, like so many of her fellow students, she refused to give up — on her education, on her potential, on her life.
Her persistence led her to Polk State, a place where so many others have found their fresh starts and second chances — and here she is reinventing herself.
"She is quick to share with others her personal story, and she tells them that if she can do it, anyone can do it — and that's very true. When you think about where she came from, it's just an amazing story," said Matina Wagner, enrollment services and outreach coordinator at the College.
The Darkness
McKinney's early childhood holds fond memories. She was born in Haiti and lived with her great-aunt and great-uncle. She remembers afternoons spent splashing in the river near her home, even plunging from cliffs into the water, a feat she can't believe she was ever brave enough to try.
Then at age 6, she was sent to live with her mother in Haines City, where she joined her two older sisters. Her new home, she said, was abusive from the start.
"My mother told me the only reason I was with her was to cook and clean," she said. "I would watch my sisters playing outside and watching TV, and I would just cry."
In the years that followed, McKinney endured physical and emotional abuse, nights of hunger, a loneliness that gnawed at her soul.
"Then two years ago, things got worse," she said.
It was around midnight on a hot, humid June night, when her mother woke her up and told her to leave the house. She wasn't wanted, she wasn't welcome, she had to get out.
"I was used to being told those things. I have asked myself since, what was different about that night? The difference was that I decided to fight for my life," she said.
Running and Never Turning Back
The night the door of her mother's home slammed — literally and figuratively — in her face, McKinney started running. She was barefoot, wearing only underwear and a T-shirt.
"I was just trying to stay behind the trees and in the shrubs. I didn't know where I was going but didn't want anyone to see me," she said.
She ran to her sister's home. She stood outside in the rain, and pleaded with her for shelter, food, help. It was only at her boyfriend's prodding, McKinney said, that her sister agreed.
"I went inside, and I sat in a chair. I was so afraid to move. I just sat in that chair all night until morning," McKinney said.
The next day, McKinney's sister took her back to her mother's home. There, she said, she was beaten. Again she ran, setting off in a downpour for a friend's home.
The next two weeks of her life were a series of false starts. She would find a few days' relief from her abusive home life, only to have friends and family members let her down. They were scared to get too involved, worried for the trouble they might bring to their own families.
Hope
By 17, during her senior year at Haines City High School, she had been staying for more than two months at Peace River Center in Bartow, and she planned to move into a women's shelter when she turned 18.
Her eighteenth birthday came, but there was a three-day gap when she couldn't yet enter the shelter and she had nowhere to live.
That's when she remembered an offer from her former math teacher at Haines City High, Charlee-Lou McKinney — if Gina ever needed help, or a place to stay, just pick up the phone.
Gina found Charlee-Lou McKinney. The offer still stood.
"I remember driving up her driveway in Lakeland. I was so nervous. My life was such a wreck, but that's where my new life started," Gina-Lou McKinney said.
Charlee-Lou McKinney said from the moment Gina-Lou stepped foot on her driveway, she felt an unconditional love, the kind of love that's supposed to be shared between a mother and a daughter.
"Gina didn't understand love. She just thought I was crazy. But as time progressed, that love was just there. One day, she just started calling me 'mom.' At first, I felt unworthy, but then I said, 'OK, Lord, you're doing this, this is my daughter.' She was my daughter and I couldn't see it any other way," Charlee-Lou McKinney said.
What was supposed to be a three-day stay turned into a legal adoption that was finalized on June 5 — two years almost to the date from when Gina's mother first kicked her out of her home.
At age 19, the former Gina Delva became Gina-Lou McKinney — taking not only the last name but also a common middle name of her new family.
"I am now Gina-Lou McKinney, the survivor of Gina Delva," she said.
Dual-Enrollment to Full-Time
Finally in a safe place, and surrounded by a love she'd never thought she would experience, McKinney began the process of healing and getting her life on track.
She began dual enrolling at Polk State in her senior year at Haines City, and earlier this week began her first semester as a full-time college student.
"What I've found at Polk State is that it doesn't even feel like this big college. It just feels like a big house with a bunch of people in it who want to learn," she said.
She is president of the College's student volunteer organization, the Eagleteers, and serves on the board of Polk State's My Brother's Keeper, a resource and referral program to help the College's neediest students. She also serves on Polk Works' Youth Development Council — her special "something" recently landed her in a Polk Works public service announcement.
She is pursuing her Associate of Arts, and plans to become a teacher, possibly of history or Spanish.
"What I've seen with Gina is that she really had her 'ah-ha' moment. The light for her came on when she realized the impact she could have on other people through her service and volunteering. She loves to teach and help middle-school students, because she feels they're the forgotten group," Wagner said.
"There is just a glow about Gina. The best thing is when she sinks her teeth into something and is determined to resolve it and help someone else. She is like one of those little firebugs; she really lights up when she realizes she can solve a problem."
All this, her education and involvement at Polk State, her new family, even the pink and polka-dot bedroom that she dreamed of as a child but didn't receive until her 19th birthday, is more than Gina-Lou McKinney ever thought possible during those dark years of her youth. And she thanks God for it all every day.
"Some days, I just wake up and say that this isn't real. I have been blessed in overflow."