Fear the Beard: Scruffy Eagles Soar Toward JuCo World Series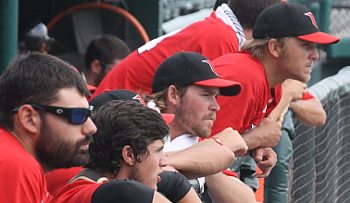 Keen observers may have noticed something different about members of the Polk State Baseball team during the group's post-season run: they are hairier than ever.
After entering post-season play in early May, members of the team began growing facial hair — and have avoided razors ever since. Now, heading into the NJCAA JuCo World Series this weekend, they're bringing a little "fear the beard" with them.
"We decided to start growing beards because we wanted to show team unity and to signify the challenges we have had to overcome during the entire season," said second-baseman Conor Szczerba.
Outfielder Mike Danner said he and his teammates decided after the April 17 regular-season victory against South Florida Community College that they would begin growing their beards that very night. According to Eagle skipper Al Corbeil, team rules prevent the team from growing beards during the regular season. However, if they make it to the post-season, beards, mustaches, goatees and the like are fair game.
"Last year, after entering the post-season, we decided to grow our facial hair, and we are excited to be doing it again this year," said Danner.
The players are following some strict hair-growing rules: They won't cut the hair on their faces until the end of the season and are only allowed to cut the hair around their necks.
"I have never grown my beard out this long," Danner said with a smile.
Years from now, when Szczerba looks back at the record-breaking 2012 season for the Polk State Eagles, he may rub his cheeks and wonder, "Wow, I can't believe I did that. This builds team chemistry and it's just a great opportunity for us to do something special. Some of the guys dyed their beards. It's just a fun time."
According to teammates, Eagle right-handed pitcher, Chris Waltermire has the best beard on the team.
"It's pretty long. I'm good with it," Waltermire said.
Corbeil reports that during the regular season, "Walt shaved two times a day."
His thick beard has taken some adjustment, Waltermire said.
"The beard makes it 10 degrees hotter. My face is always itching, and you cannot drink liquid that gets in your mustache," he said.
For left-handed pitcher Steve Burnham, the discomfort of facial hair was getting pretty bad — to the point he had to cut the hair around his neck.
"It was just too much. Now I just have blond chops," said Burnham.
Members of the coaching staff have also let their facial hair grow. During the state tournament, Corbeil sported a goatee, while assistant coaches Brad Cook and Collin Martin went with full beards.
"Coach Martin grows the best beard on the team besides Walt and Rowland Goodman," said Corbeil.
"Some of the guys are having a hard time joining the beard club," Corbeil added with a laugh.
Right-handed pitcher Brian Johnson and first-baseman Holden Reeves are struggling to grow their beards, but that doesn't stop them from trying to join the beard movement. The two joked about their seven chin hairs.
"I have never shaved in my life," said Reeves. "I am not worried about it. If it grows, it grows, if not, oh well. If I don't have facial hair by the time I reach 35, I will get some Miracle Grow."
The Eagles will open NJCAA JuCo World Series play on Saturday, when they take on Western Nevada College. First pitch is set for 5 p.m. The game can been seen live at http://www.ihigh.com/njcaatv/.