EagleWatch Volunteers Protect Polk County's Thriving Eagle Population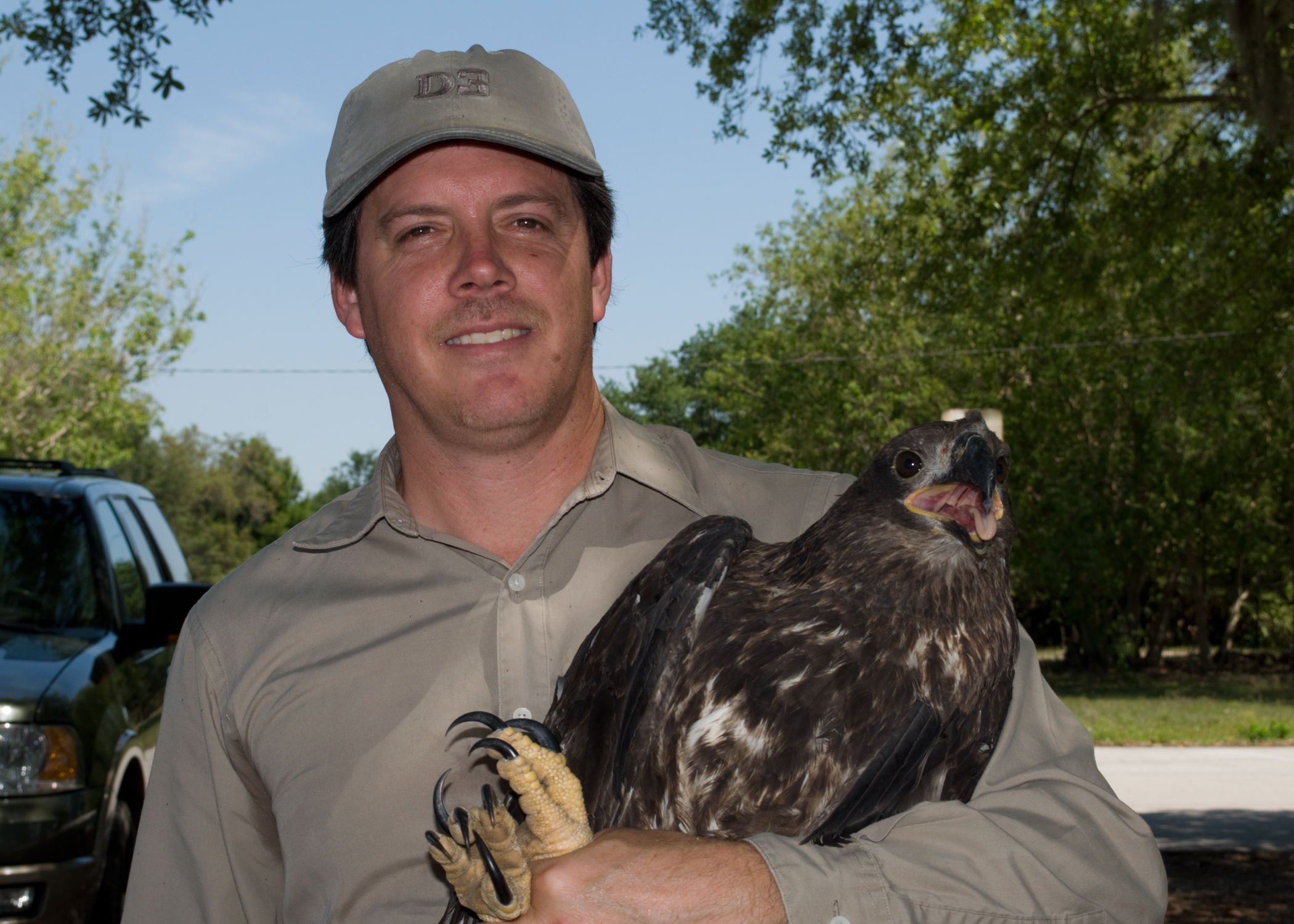 PO216 is within view of a North Lakeland car dealership.
PO167 is near a mobile home park off bustling U.S. 27 in Dundee.
PO202 is just yards from a Frostproof fruit-shipping operation.
These alphanumerically identified locations are just a tiny fraction of Polk County's bald-eagle nests — all of which are guarded and supported by the volunteers of EagleWatch.
EagleWatch, an Audubon Society of Florida program, has existed statewide since 1992, but here in Polk County participation was all but nonexistent until about two years ago, when Reinier Munguia became president of the Lake Region Audubon Society and infused new life into the program.
With 220 eagle nests — about half of which are active — Polk County has the densest population of breeding eagles in the country, an ecological treasure that deserves an advocate, Munguia said.
"This is the national symbol of this country. Of all the birds, this is the one we should protect," he said.
It is precisely the county's density of the bird that prompted Polk State College to adopt the eagle as its mascot in 2011. At the time, President Eileen Holden talked about the eagle's legendary attributes and strong ties to the region the College serves.
Thanks to recruitment efforts, including a heightened online presence for EagleWatch, there are now about 30 volunteers protecting and supporting this national symbol and countywide point of pride — up from just a handful a few years ago. The volunteers keep close tabs on the county's eagle nests, making careful observations about the birds' activities and any potential threats to their wellbeing.
As part of EagleWatch, Munguia and other specially trained volunteers are the first responders for injured eagles in Polk County, capturing the birds and transporting them to the Audubon Center for Birds of Prey rehabilitation facility in Maitland.
Once injured birds have recovered, they are transported back to Polk County and released. So far this year, Munguia has taken eight injured eagles to Maitland for help. One of those — an eaglet who was diagnosed with Avian Pox, a viral infection — was released in June, becoming the 450th eagle released back into the wild from the Birds of Prey center.
In 2007, after a 25-fold increase in nesting pairs over the course of 40 years, bald eagles were removed from the Federal List of Endangered and Threatened Wildlife and Plants; federal laws still protect the birds, their nests and eggs.
Locally, eagles have thrived because of the county's large swaths of eagle-friendly land and its abundance of lakes, which offer plenty of fish to eat.
That's not to say at all, however, that being an eagle in Polk County is easy. Squeezed by urbanization, Polk's eagle pairs — the birds mate for life — are in some cases living within a half mile of one another.
"They're nesting right on top of each other. Ideally, there would be one pair for every five or 10 miles," Munguia said.
Their close proximity is the root cause for many territorial fights among the eagles, Munguia said, and injuries sustained during those fights are one of the most common reasons that the birds end up in Maitland for rehabilitation.
Another hazard is the prevalence of cell phone towers, Munguia said. Though they make convenient nesting places, the towers pose numerous dangers, from the lack of multilevel landing places for fledglings during their first flights — causing many birds to crash either into the towers themselves or the concrete at their base — to the risk of electrocution.
"In the last three years, we've lost at least one bird to either hitting the tower or being electrocuted," Munguia said.
Perhaps the biggest danger to the eagles, however, is simply ignorance. Munguia has dozens of stories of people — old and young — who were shocked to learn that eagles were nesting in their neighborhoods or within sight of their schools.  The Florida Fish & Wildlife Commission's eagle-nest mapping service shows eagles living along such busy corridors as Lakeland's Memorial Boulevard, the Polk Parkway and Winter Lake Road — and thousands drive by those nests every day, completely unaware of the birds' presence.
Awareness, therefore, is the ultimate mission of EagleWatch. The more who know that eagles are all around us, Munguia hopes, the more carefully development will be conducted and the more respectful residents will be of the birds and their habitats.
Florida EagleWatch coordinator Matt Smith, who oversees the program on a state level, added that the information EagleWatch volunteers gather helps researchers and scientists better understand eagle behavior in high-density areas.
"If you look at eagle populations across the state, in a lot of ways we don't understand why there are more eagles in certain areas than others. A good example would be Pinellas and Miami-Dade counties. They are very similar in terms of population density, development and landscape, but in Miami-Dade, there is only one pair of nesting eagles. In Pinellas, there were 27 active nests in 2010-11 and 43 nests in our database altogether. There are a lot of things we don't understand about eagles," he said.
"With EagleWatch, we get a lot of detail and a deep level of monitoring. The more we know, the more we can do to protect eagles," he said.
EagleWatch volunteer Natalie Alexich just ended her first season with the program; nesting season is typically from late fall to early spring, though each year and mating pair are different.
Alexich, a Winter Haven resident, is a self-described "animal lover" and "nature freak" who wanted a personal, hands-on way to help Polk County's eagles.
"I wanted to do something that really went to the heart of conservation," she said. "Eagles are extra special because they are our national symbol and they were on the endangered list. It just blew me away that Polk County has a huge nesting population, but so many people don't know about it."
After a few hours of EagleWatch training, Alexich was assigned two nests, which she visited an average of once a week. Using binoculars or a camera, she would observe each site, making notes of the birds' activities, the status of their eggs and any potential threats.
"It became something I couldn't wait to do each week," she said.
While EagleWatch volunteers hope their birds have uneventful nesting seasons — free of predators or natural disasters or trauma to their nests —the program exists just for the kind of scenarios Alexich experienced in early April.
After receiving a tip about an eagle in trouble, Alexich discovered that one of the two eaglets that had hatched at a nest at Willowbrook Golf Course in Winter Haven was sitting on the ground. Alexich alerted Munguia, who  responded and rescued the bird, which was later diagnosed with Avian Pox, a viral infection that causes emaciation, vision problems and wart-like growths.
After nearly two months of treatment in Maitland, the eaglet was ready to return to the wild. It was released off County Road 540 in Lakeland.
"I was there, taking pictures. See it fly off to freedom was just beyond words. I get teary-eyed just thinking about it. I got to see it recover from something very dangerous," Alexich said.
To volunteer for EagleWatch or for more information, contact the Lake Region Audubon Society.