College officials urge students, employees to be prepared this hurricane season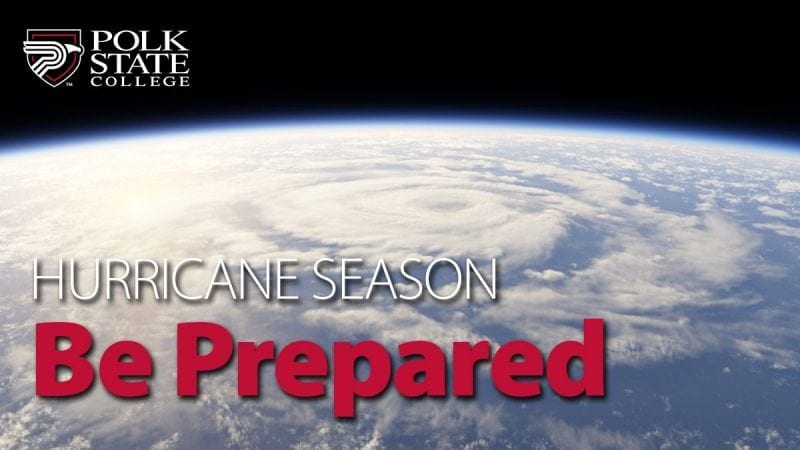 Hurricane season is underway, and Polk State College officials urge students and employees to be prepared for possible storms.
Polk County Emergency Management,  Florida Division of Emergency Management, and the National Hurricane Center offers emergency plans, contacts, evacuation routes, supply-kit checklists, and more to help prepare.
Polk State also advises students and employees to log in to PASSPORT and check under "My Details" or "Change Contact Info" to ensure all contact information is current to receive emergency alerts from the College. Numbers entered into the "Cellular Number" field in the Personal Information section will be used for emergency texts and voice messages.
The College will test the emergency messaging system on Friday, June 29, at 9 a.m.
This hurricane season, which began June 1, is expected to be near-normal, according to the National Oceanic and Atmospheric Administration's Climate Prediction Center.
Over the next six months, there is a 70 percent chance of 10 to 16 named storms. Named storms have winds of 39 mph or greater.
The Climate Prediction Center foresees five to nine of those named storms becoming hurricanes with winds of 74 mph or greater. One to four of those are expected to be major hurricanes, with winds of 111 mph or greater.
Should any of the predicted storms pose a threat to Polk County or the surrounding area, Polk State officials will assess the forecasts and make decisions about campus closures.
The College will send notifications about campus closures and re-openings via polk.edu, social media, phone, text, and Polk State email, as well as through local media outlets including TV, radio, and newspapers.
"The College's administration will monitor forecasts closely throughout the hurricane season, and will make decisions in the best interest of the Polk State community if storms approach," said Lt. Bobby Neil, head of security operations. "The safety and security of students, faculty, and staff are our top priority."
District Director of Facilities George Urbano echoed a similar sentiment, adding that College officials are just as careful about deciding to reopen campuses and centers as they are about deciding to close.
Facilities and security personnel are vigilant in making sure all buildings are safe and secure before welcoming students and employees back on campus, he said.
"Once buildings are inspected and deemed ready for occupancy, the College will notify students and employees that it is safe to come back to campus," Urbano said. "It is important for students and employees to make sure they are receiving the College's emergency notifications before we get any further into the hurricane season."
College officials also urge students and employees to make personal preparations, from determining evacuation routes to preparing storm survival kits.