Clay shooting event connects Polk State athletes and donors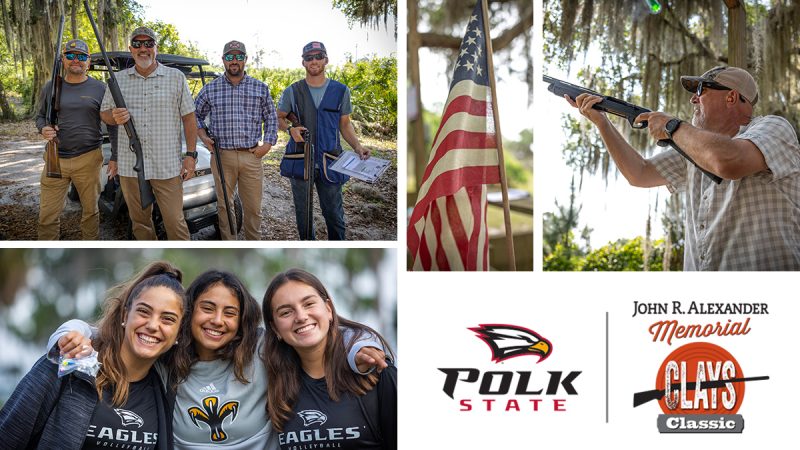 Polk State College student-athletes had the opportunity to meet some of the donors who support them on Friday at the John R. Alexander Memorial Clays Classic.
The sponsoring Polk State Foundation reached its goal of filling all 32 four-member teams for the clay-shooting event at the Florida FFA Leadership Training Center in Haines City. The nonprofit Polk State Foundation supports athletics through various means, including housing.
"Getting our student-athletes in front of the donors is always special," said Jeff Baldwin, Vice President of Resource Development and Executive Director of the Polk State Foundation. "It gives us the opportunity to connect 'A' and 'B,' which is the most impactful part of the event. We truly appreciate the donors coming out and everyone who supports us and that's not just athletics, but the College as a whole."
Members of the Polk State basketball and volleyball teams took part in the festivities. For volleyball's Rayna Durden and basketball's Jaelin Simpson, both freshmen, this was their first time out.
"We are very, very grateful for all the support," Durden said. "It's nice to get to meet people."
"I'm excited to see what it's all about," Simpson added. "I want to be able to build a relationship and meet people from our community who support us."
Michael Huff, of Lakeland, is part of the Pre-Con Construction of Florida team and has been shooting in the event for several years. He likes the ability to get to interact with the players and see them in a different setting.
"(Shooting) is something that people like to do, and this gives us an opportunity to talk with the athletes and get to know them out on the course," Huff said. "That's really neat to me."
Brandon Giles, head basketball coach at Polk State, said he likes the fact that the event brings people together. He noted that it not only allows donors to meet athletes, but also members of different athletic programs to take part in a combined event.
"At Polk State, we're a community-driven college," he said. "Any time we can get together with stakeholders in our community and get to know each other and interact, that's a great thing."
The clay-shooting competition is among three signature events that the Polk State Foundation sponsors annually. Craig Hosking, of Lakeland, also part of the Pre-Con Construction of Florida team, said he's participating to show his appreciation for the student-athletes.
"Athletics in education is a must," he said. "Athletes carry a special aptitude to balance school and sports. It's nice to be able to let them know that we support them."
Conversely, Senior King, Director of Development and Communications for the Polk State Foundation, said hosting the event is also a way to thank the Athletics Department's donors.
"It's a way to say thank you to the community by giving individuals the opportunity to come out and spend the day doing something they enjoy," King said. "It's also important for our student-athletes to meet people who do this to support them."
Baldwin added that the event is an opportunity to see athletes outside of their competitive element. The event has taken place since 2012 and has raised more than $100,000. Stanley Cromartie, Athletics Director, is appreciative of the Polk State Foundation for making it happen and everyone who supports it.
"Jeff and his team do an excellent job and it's exciting to see this level of support," Cromartie said. "It's well-organized and it's wonderful that people come out to support the student-athletes year after year."