Black History Month scholarship reminds student that people believe in him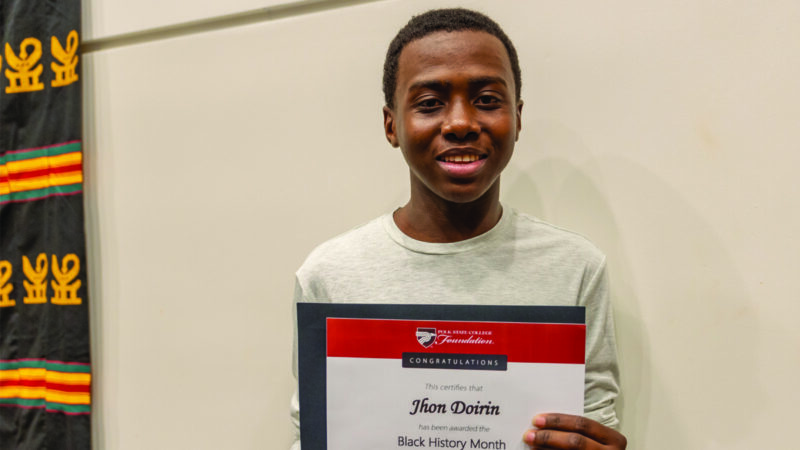 The Polk State College Foundation awarded student Jhon Doirin with a scholarship during the College's Black History Month Kick-off.
Doirin was chosen based on his academic achievements as well as an essay he wrote about how a scholarship would help him achieve his educational and career goals.
"Growing up, I always had a hard time telling people what I wanted to be when I grew up. Not because I didn't know what I wanted to become…," Doirin wrote. "I always knew I wanted to be a doctor, but I couldn't think of a way to complete my education. I always knew that my family would not be able to support me."
As a first-generation-in-college student, Doirin shared that although his family is unable to support his academic pursuits financially, his mother is of great emotional support to him on this journey.
"I appreciate the fact that she believes in me and encourages me," he shared. "Success for me is having a career that I love. Becoming a primary care doctor to care for patients is what I love. It's what I want to do for the rest of my life."
He plans to complete a Polk State Associate in Arts degree with a Biomedical Sciences transfer intent. With tuition that is half the cost of that at universities, as well as a Foundation that awards approximately $1.4 million in scholarships each year, Polk State is an affordable option for students that does not sacrifice the quality of higher education. Doirin aspires to attend the University of South Florida to complete a bachelor's degree before applying for medical school.
"This scholarship will make me realize that there are people who believe in my potential and are willing to help me achieve my goals," Doirin said. "I believe that the most precious thing in the world that anyone can receive is an opportunity because sometimes all it takes for someone to be successful is a chance to do so."
Individuals who are interested in donating to the Foundation in support of Polk State students can visit foundation.polk.edu.