At the Top of Commencement Stands, a Beaming Coach Watched His 'Kids' Graduate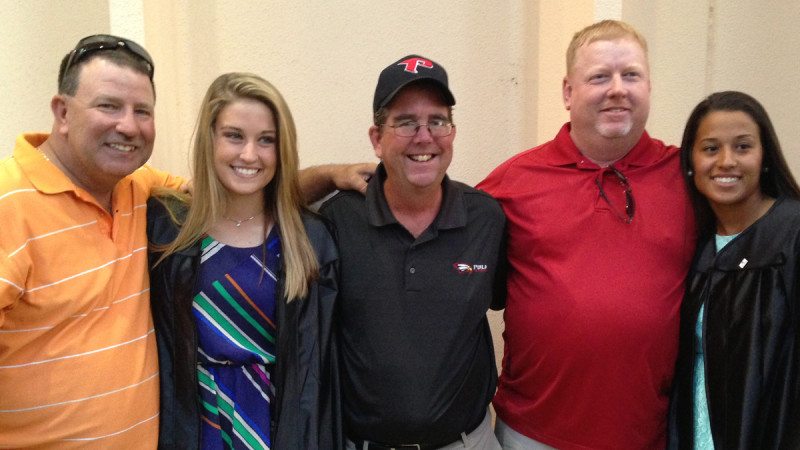 Jeff Ellis certainly didn't have to attend last night's graduation.
Just off his fifth season coaching Polk State's softball team, and having just returned from its second consecutive state tournament bid, no one would have blamed him for preferring to spend the night at home — or anywhere unrelated to his job.
Besides, at an event studded with College and community dignitaries, who would even notice his absence?
Two people, that's who. Two people in a packed arena. And even though he'll never coach them again, and his role in their lives is now largely relegated to memories, Ellis couldn't let them down.
So Ellis climbed the stands of The Lakeland Center, quietly took a seat near the top, and waited to cheer.
"I consider all my players to be like my kids," said Ellis, who doesn't have children of his own.
The two graduates Ellis was there to see were Brooke Threlkeld, his trusty first baseman, and Amber Reveron, a solid outfielder and go-to hitter, both of whom were pivotal to the squad's Suncoast Conference championship and second-place Gulf District finish.
But to Ellis, they are much more than stats or playmakers, they're members of his family.
Brooke Threlkeld is the daughter of his assistant coach and best friend, Curtis Threlkeld. Ellis first met Brooke when she was a sophomore in high school. He was there for her last high school game, her high school graduation, her first and last college matches. He's spent nearly every holiday for five years with her and her family. He's seen her grow from a teenager to a young woman.
As for Amber, she turned to Ellis for help during her freshman year, when she learned she was pregnant with her son. Ellis stood by her, promising her that she'd walk across the commencement stage — and that he would be there to watch.
As the graduates formed the ceremony's processional and entered The Lakeland Center's Jenkins Arena, Ellis stood slightly to the side, craning to peer over the heads of other excited spectators, hoping to catch a glimpse of his girls.
The emotions he feels at commencement run the gamut, he said, from pride in seeing his players reach a goal, to sadness that they're leaving him, and he expresses those emotions freely. In commencements past, he's been seen wiping tears from his eyes, and he cheers just as loudly as any parent, rising to his feet and clapping heartily.
He's not their dad. He's just the coach of a team that will ultimately account for just a sliver of their lives. But being there to watch them reach this milestone, he wouldn't have it any other way.
Tuesday's commencement was no different. Ellis waited patiently through the speeches and recognitions, through row after row of graduates. The two he was watching for came near the end of the roll call.
"Brooke Threlked," Polk State Lakeland Provost Steve Hull said into the microphone, then seconds later, "Amber Reveron."
Ellis shot to his feet, smiling and clapping. Visibly proud.
"Their parents send them to me and trust me to see them through this," he said. "I have 18 daughters every year. Whenever I'm with them or think about them, they make me smile. That's why I'm here."