American Heritage Troop Visits Polk State Aerospace Program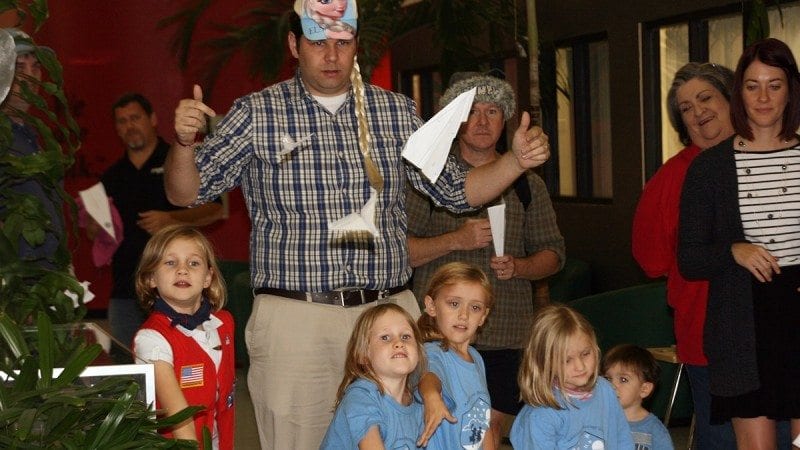 For their first-ever field trip, members of American Heritage Girls Troop 2101 visited Polk State's Aerospace program Monday night.
The takeaway? Little girls can grow up to be anything they want to be — even airplane pilots.
"We need more females in aviation," said Polk State Aerospace Director Eric Crump, whose two daughters were among the participants in the field trip.
"A lot of little girls are really interested in flying airplanes, but they have no concept of where to get started because they don't have any role models to look up to. We want to make sure they know where they can go to find more information, and that they can do this when they're older."
Nine girls, their parents, and a few siblings made the trip to the Polk State Airside Center on Monday. There, the little girls, who are all 4 or 5 years old, made paper airplanes and got a turn in Polk State Aerospace's flight simulators.
Assisting Crump in the night's activities was Karissa Strickland, a Polk State Aerospace student.
"These kids are the future. They will be what comes after me," Strickland said of why she volunteered to spend her evening with the troop. "Everything I'm doing is so it will be easier for them."
For their field trip, members of the troop will earn an aviation badge, said Troop Shepherd Danielle Goodwin, but more than that, too.
"I hope she is intrigued," Goodwin said of her daughter, Brianna, 4. "This might inspire something in her heart."
Added dad Nick Selent, who attended with his daughter, Julianne, 5:
"I'm a computer programmer. Technology is very important for my family, and important for my children, and especially my daughter, to be involved in.
"We have a deficit of females in the technology fields. I want her to know that she can be involved in science and technology, and part of doing that is just getting the young girls engaged and showing them that technology is for them, too."
Cincinnati-based American Heritage Girls is a faith-based character development program that has more than 35,000 members around the world. Members participate in badge programs, service projects, leadership opportunities, and outdoor experiences.
Polk State Aerospace offers the Associate of Science in Professional Pilot Science, the Associate of Science in Aerospace Administration, and the Bachelor of Science in Aerospace Sciences, which has concentrations in both Pilot Science and Administration.