A Landmark Polk State Theatre Season Culminates with 'All Shook Up'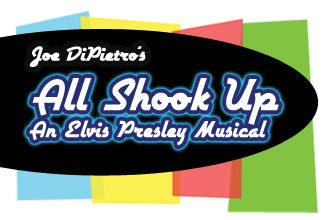 A landmark season for Polk State Theatre comes to its rollicking conclusion in April, with the staging of "All Shook Up," a romantic musical told through Elvis Presley hits.
It's a performance that will be fun and lighthearted, but for the actors, also intensely complicated and demanding.
No matter, says Polk State Theatre Professor Paul Carbonell, his students are up to the challenge.
They have been all year.
"Musicals are a monumental effort. There are so many elements involved — the dialogue, the sets, the singing and dancing. In musicals, 'bigger is better' is the mantra; everything is spectacle driven," Carbonell said.
"For the students, doing a musical at the end of the year is the culmination of everything they've learned all season. This is everything they've been working toward."
A Season to Remember

Polk State Theatre has enjoyed bustling growth in recent years, including a spike in the number of students applying for scholarships to study with the program; in 2012, 51 students applied, nearly quadruple the number in the year prior.
The new talent the program is attracting, combined with the hiring of new faculty members, positioned Polk State Theatre to launch its most ambitious season ever in fall 2012.
The performances ran the emotional gamut, from Neil Simon's classic comedy, "Barefoot in the Park," to the Pulitzer Prize-winning "Anna in the Tropics," an intimate tale of Cuban cigar-makers whose transition to America is fraught with infidelity and other struggles.
The season also included William Shakespeare's "Richard III," the largest and most complicated performance in Polk State Theatre history, involving more than 100 cast and crew members and local theatre professionals.
It's certainly been a season to remember, Carbonell said, even more so because of the growth he's seen in his student-actors as they met the challenges of each performance.
Take for instance student Austin Thomas, 20, who acted in "Richard III" and "Anna in the Tropics," and plays the male lead in "All Shook Up." Thomas said he's gained added confidence through his experiences with Polk State Theatre this season. He is applying to study in the competitive Cap 21 summer program in New York City and even plans on auditioning for a Broadway play — all thanks in part to what he's learned at the College.
"Polk State and my professors here have honed my skills. I've become a better actor, especially with the physical side of acting, and a better singer," said Thomas, a resident of Auburndale. "Polk State has honed my skills exponentially since high school."
Mikayla Duncan, 19, a resident of Lakeland, acted in "Richard III" and plays the female lead in "All Shook Up." She's been performing on stage since she was in the seventh grade, but said she's learned new methods just in the span of the few months she's been involved with Polk State Theatre.
"At the College, they expect you to know your stuff, to know the play beyond just your part," she said. "I've learned to know the lines of other people in the play and that I have to really get into the emotions of the character. I can't just memorize the lines."
'All Shook Up'
Polk State Theatre's upcoming performance of Joe DiPietro's "All Shook Up" will test all the newly acquired skills of the student-actors.
The musical, which reviews have described as having Shakespearian overtones, uses Elvis Presley hits such as "Jailhouse Rock" and "Love Me Tender" to tell the story of 10 romantically entangled characters. "All Shook Up" made its Broadway debut in 2005.
Director Mark Hartfield said "All Shook Up" is a particularly exhausting show because of the intensity of its musical numbers.
"There are 30 different songs, so we're constantly going from one musical number to another with just a few lines in between. That's a lot. Most musicals don't have that many songs," he said. "The challenge becomes how to present so many songs with the same 25 people. It's a lot of memorizing and learning dances."
Adding to the challenges is that not all of the performers have had previous singing or dancing experience — but at an open-access institution such as Polk State, auditions are open to anyone who wants the opportunity.
"There are several levels of complexity to this show," Hartfield said. "We started auditioning in January so we could start right away in February with learning the music, then we move on to adding the staging and the choreography."
All the previous shows of the season have been excellent preparation for the season-ending musical, Hartfield said. All the hard work, all the lessons learned, all the progress made will culminate in a truly fun show.
"The music of 'All Shook Up' is popular and it has a good story. It's high energy entertainment," he said.
Polk State Theatre will perform "All Shook Up" on April 10-14 and 18- 21. All shows are at 7:30 p.m., except for Sunday matinees, which are at 2:30 p.m. All shows are at
Polk State Winter Haven's Fine Arts Theatre, located on the campus of Polk State Winter Haven, 999 Ave. H N.E.
April 10 is a free preview. All shows are free for Polk State students and employees with College-issued IDs. High school students are also free with school ID. Tickets for the general public are $5. The box office opens 30 minutes prior to each show. Reservations may be made by contacting Sharon Bevis at 863.297.1050 or sbevis@polk.edu.
The cast of "All Shook Up" includes:
Nya Bernier as Lorraine, Winter Haven
Yusak Comas, ensemble, Poinciana
Michael DeFelice, ensemble, Winter Haven
Mikayla Duncan as Natalie, Lakeland
Lizett Echevarria, ensemble, Auburndale
Leisa Englert, ensemble, Winter Haven
Olivia Fleming, ensemble, Auburndale
Gisella Hernandez, ensemble, Auburndale
Rosita Hewitt, ensemble, Poinciana
Viktoria Hicks, ensemble, Eagle Lake
Michael King, ensemble, Winter Haven
Ashley Kochenburger, ensemble, Lakeland
Rose Legros, ensemble, Haines City
Britt Mathis, ensemble, Auburndale
Devon Maver as Miss Sandra, Auburndale
Tiffany Nystrom, ensemble, Davenport
Sydney Reynolds, ensemble, Lake Alfred
Alayna Shumate, ensemble, Auburndale
Charles Sigler as Jim Haller, Winter Haven
Katherine Siriano, ensemble, Davenport
Alexandra St. Julien as Sylvia, Winter Haven
Austin Thomas as Chad, Auburndale
Jacob Thomas as Dean, Auburndale
Heidi Thompson as Matilda, Winter Haven
Danny Villnow as Sheriff Earl, Orlando
Gregory Yang as Dennis, Winter Haven
The production crew includes:
Kent Altman, light designer
Jenni Berry, choreographer
Paul Carbonell, producer
Mark Hartfield, director
Nick Judy, set designer
Alicia Keilty, assistant stage manager
Jake McKinnon, stage manager
James Sharp, technical director
Virginia Zechiel, music director
In addition to Polk State Theatre, Polk State Fine Arts includes the College's Music and Visual Arts departments, all of which enjoy outstanding statewide reputations.