Identity Guidelines
General Principles
Polk State College is awesome and deserves the very best.
The "brand" of Polk State is much more than a logo or a set of colors. Our brand is the sum total of our name, our values, our iconic (and trademarked) imagery, our colors, our fonts, our reputation and our statements of market positioning.
We want our brand taken as seriously and treated with as much respect as other leading brands, such as Disney, Nike, Publix, or the state's leading state universities. There is no reason at all that our brand should be any less carefully protected or aggressively promoted than any of those other brands. Why? Because our students are awesome, and they deserve the very best. You are awesome, and you, too, deserve the very best.
The protection and cultivation of a brand is a never-ending task. (Imagine what would happen if you started printing homemade Mickey Mouse t-shirts in your garage: as big as Disney is, they will always make time to prosecute anyone who infringes on the brand, no matter how small the "infringement" may be.) It is also a very worthwhile task. The more vigilantly we nurture a brand, the more valuable it becomes. If Nike tolerated rampant counterfeiting, the value of their sneakers would plummet. Because they protect the brand to the extent possible, consumers are willing to pay a premium to experience the brand. In Polk State's case, we do not protect the brand in hopes of charging more but in hopes of causing students, employers, donors, alumni, etc. to see more and more value in what we do.
Consistent, coherent branding also represents a way to strengthen affinities between individuals (employees, students, "prospects," alumni, etc.) and the College. Those affinities can be translated into a variety of forms of support – everything from writing a check to saying nice things in private to wearing a licensed sweatshirt.
Colors
Polk State's primary colors are red & black (& white). Our secondary color palette consists of a nearly endless variety of grays/charcoals/silvers. Which color or shade is determined by the specific context and application. Our official color palette also includes the gold you've seen in the eagle's beak and talon on our athletics marks, but that color is primarily reserved for the athletics teams and our Honors Program. We are also developing a tertiary color palette – colors other than the ones mentioned above – that are available to complement our primary and secondary color palettes. Those tertiary colors include a sky blue and a wide range of silver/grays.
Our official red is PMS 200 – a specific shade of red that was selected to correspond as closely as possible with the adidas uniforms our athletes wear in competition. Red is one of the trickiest colors for designers and printers to handle, and it takes a lot of practice. The "rule of thumb" when referencing reds without the aid of a PMS match is "not burgundy" and "not orange"… it's a bold, juicy color somewhere in the middle. If it veers too much toward either burgundy-red or an orange-red, it's a problem.
Our official gold, used for our athletics and honors programs, is PMS 130.
When possible, we try to match our colors as precisely as possible. We want "our" red to be easy to identify as ours, and if we are inconsistent in our use of colors, we make it less likely that our audience can spot us from a distance or tell when they're looking at the "right" Polktastic red.
Believe it or not, there are sometimes issues with matching black. If you want to know more about this, drop by OCPA – and bring some Kleenex. It's a sad, sad story, and we're happy to share.
Red (especially "our" red) is a bold, assertive, compelling color. Notice how it manifests itself in nature, and you get an idea for how useful it can be for purposes of human communication! However, red (including "our" red) is generally an awful color to use for lettering, unless the lettering is very large and in a high-contrast situation. Thin, red letters on a white page, for instance, are notoriously difficult to read. For this reason, you will note that the College rarely uses red for lettering. Instead, we look for selective ways to use red as an accent color. It's like Tobasco sauce: a little bit goes a long way.
Images
Our logos are one of the first things that many people think of when they think of "branding." Although the logos are only one part of the brand, they are certainly one of the most memorable aspects – and potentially among the most valuable. As part of Polk State's rebrand last year (a.k.a. "The brand that will last at least for the next 50 years!"), the College issued a suite of logos or "marks," including a shield-driven College mark and a mascot-driven athletics mark.
There are literally DOZENS of approved Polk State marks – each of which is just as important and just as protected as any of the others. Which mark to use in a given situation depends very much on the context. Some are designed to work well on light backgrounds; some on dark. Some are designed primarily for "internal" use; some are ideal for "formal" use with external audiences. OCPA is delighted to help folks identify the perfect logo for any occasion that requires a logo – but keep in mind that some things do NOT need to be branded with a logo (though they may, perhaps, be branded in other ways).
One of the important features of the current branding program is that the College has significantly cut back on the number of department- or program-level logos. This creates for a much more unified, compelling brand and adheres to "best practice" in large organizations (whether in higher education or in the corporate world). While the rebrand "took away" some logos from units that may have previously had their own, distinctive look and feel, it now allows all elements of Polk State – from our pre-collegiate programs for 5th graders to our non-degree programs for corporate partners to our athletics program to our various service units to the President's Office to… — you see what we mean! The visual identity of each of those elements now connects very explicitly to each of the others. We are ALL Polk.
When OCPA reviews a logo application as part of the typical approval process, here are some of the things we look for:
Is a logo appropriate? (many projects do not require a logo at all)
Is it the right logo?
Has the logo been unintentionally distorted? (some software programs make it very easy to accidentally mutilate a logo)
Is it the right size? (not too big & not too small)
Is there enough "white space" (which isn't always technically "white") around the logo, so that it doesn't get "lost in the shuffle"? (As a rule of thumb, we will often want a clean margin of 15% – 20% the size of the logo on each side of the logo. This "rule of thumb" varies widely, however, based on the specific context.)
How does the logo compare to imagery around it? (We never want Polk State to be upstaged.)
Is there a background image or texture that is conflicting with the logo? (In most cases, we want our marks to appear on a clear background.)
Are the colors right? (Red can be tricky, but it's not impossible. However, there are also many occasions on which a black & white mark is ideal.)
Are we comfortable that the logo will "hold up" in the intended application? In other words: is it likely to "show up" on  particular materials or surfaces? (OCPA has had a lot of practice with this, and we are delighted to share that experience!)
One of the most common "mistakes" in logo usage is the assumption that "bigger is always better." Watch how some of the most successful, iconic logos are used around you, and you quickly realize that the best logos "own" space rather than "occupying" it. Don't get us wrong: sometimes HUGE is exactly what we need – but many times, a more modest size with a "sacred zone of silence" around it draws the eye toward a mark in a way that something huge might not. (Indeed, research has shown that smaller type with appropriate space around it is easier to read than large type that doesn't have sufficient space around it. The human eye needs space to "make sense" out of what it is seeing.)
If you are ever working with OCPA on a project and have concerns about the size of the logo that is being proposed, please don't hesitate to push back with us. While there is some science involved in this stuff (seriously, there is science involved!) – a lot of it is, quite frankly, "art." We are always happy to have a conversation with you about your needs and concerns, and we guarantee you that we are every bit as passionate about using whatever you are doing to help brand Polk State as you are. If you're not happy, we're not happy: it's that simple.
The following are some examples of how not to use Polk State's marks: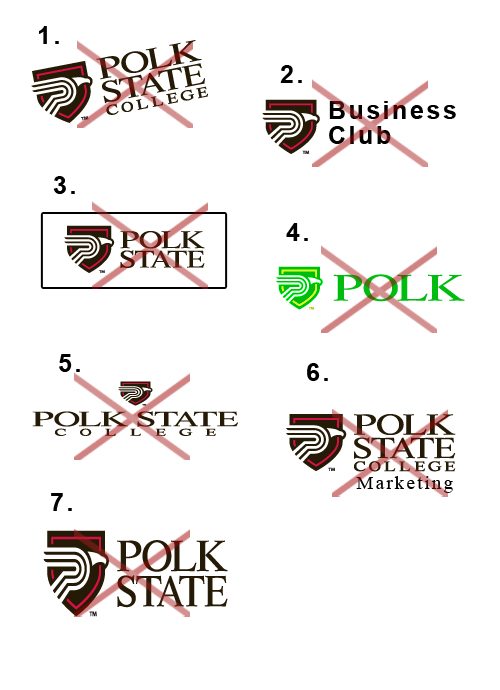 The issues with those "bad examples" are as follows:
Polk State marks should not be tilted or skewed.
Other text should not be placed next to a Polk State mark (such as the Polk State shield) to create the impression of a new logo. (see #6 for another example)
Our marks should generally not be placed inside boxes of any kind.
Our marks should not be produced in colors other than our official colors.
The marks should not be stretched. (see #7 for another example)
Other text should not be placed in close proximity to our marks. (see #2 for another example)
The marks should not be stretched. (see #5 for another example)
Words
Polk State College communicates in a wide variety of contexts. The "style" of that communication may appropriately vary, based on the context. Academic communication should be styled according to the prevailing standard within a given academic discipline (MLA, APA, etc.). The Office of Communications and Public Affairs primarily utilizes a modified AP Style in "journalistic" communication. Marketing communication, however, sometimes involves breaking lots of rules: effective messaging can include sentence fragments, intentionally ungrammatical wordplay… and lots of exclamation points!!!! In every case, the intent is to use the appropriate style for the communication context.
The new brand was launched with a very simple premise: We are Polk. We always have been, and we always will be. When we were Polk Junior College – we were Polk. When we were Polk Community College – we were Polk. No matter what happens around us, we are the only college or university that is exclusively and specifically focused on the higher education needs of Polk County. That is our reason for existing – and it's also our competitive advantage in an increasingly crowded marketplace.
For this reason (and a few others), we are moving away from references to our initials. Over the last fifty years, we have been PJC, PCC and PSC. But we have ALWAYS been Polk! We own our community, and they own us. Our future and the County's are inextricably linked, and we welcome that connection!
You may have noticed that the College has a trademarked "wordmark" of the "We are Polk" tagline. As often as possible, we prefer to use the particular wordmark for those particular words – although there will always be exceptions. Again, we attempt to use repetition and consistency to help underscore the brand's values.
We will also use a variety of other taglines for various purposes – either to promote a specific campaign, spotlight a particular program, or connect with events around us. "We are Polk" is the universal constant, but that doesn't mean we may not occasionally use (as we have) taglines such as "We care for Polk" (for our Health Sciences materials) or "We protect Polk" (for our Public Safety materials) or "Make summer count" (for an enrollment campaign).
In the context of athletics and student life, we also use the "Soar, Eagles!" tagline. You may have noticed that we have a particular wordmark for that tagline as well – but you'll also be aware that the metaphor of "soaring" fits in so many ways that we use it all over the place. It's good to be us!
Downloadable Media
The following logos may be used by Polk State personnel in accordance with the guidelines articulated above. Please keep in mind that each of these marks is designed to be used on specific backgrounds. They should not be used against contrasting backgrounds, because it will have the effect of "boxing in" the logo. If you have any questions about their proper use — or if you need access to other approved Polk State marks, please contact OCPA.
Updated 04.21.2013