Student Plays Role in College's Transition to Information System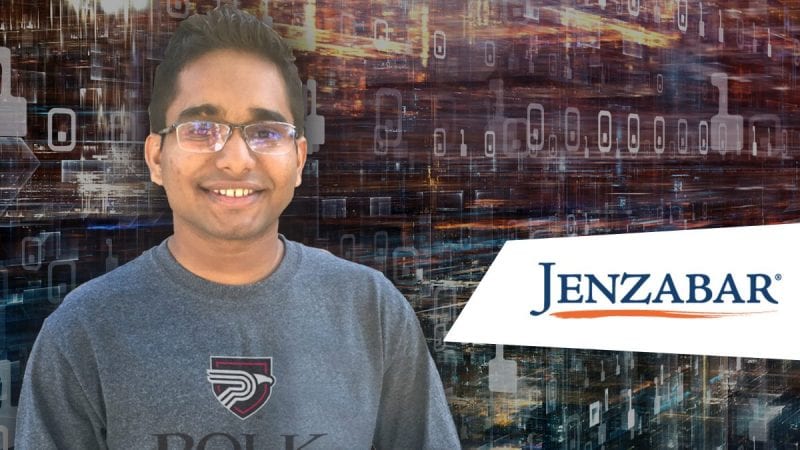 Polk State College is transitioning to a new student information system, which serves as the institution's backbone technology for academic and business functions, and a student is playing an important role in the process.
Sneh Patel, an Associate in Arts student, will work as an intern on the transition from Genesis/Passport to Jenzabar, which is sponsoring the prestigious internship.
"Sneh is a stellar student and has significant skills that will help us along the way of our transition," said Naomi Boyer, Vice President of Strategic Initiatives and Innovation, and Chief Information Officer. "I am pleased that Jenzabar has further underscored our partnership by investing in talent to help our efforts."
"It's a win-win for all of those involved," she added.
Patel, who plans to transfer to the University of Central Florida after receiving a Polk State Associate in Arts degree, currently serves as a programming intern with the College's Enterprise Department.
Patel has created a data model for the Human Resources Department that organizes and presents demographics of the College's employees, and he is building financial aid forms that will make the financial aid process easier for students. During his summer internship working on the Jenzabar project as a data analyst, Patel will create other important forms for students, who will access them through the new information system.
"It has always been my childhood dream to be a computer engineer and to work in programming," Patel said. "This is a great opportunity for me to continue gaining knowledge as I work toward my goal."
Patel moved to the United States from India in October 2016 and chose to start his higher education at Polk State because of its affordability and proximity to home in Lakeland.
He ultimately plans to attend medical school to become a cardiologist or a neurologist.
"Because those fields are based in research, programming, and creating new medical tools, I will be able to use the education and skills I am learning now in my future endeavors," Patel said. "Attending Polk State is a great opportunity for me to establish the foundation I need."