Scuba-Diving Professor Carves Polk State Shield Under Six Feet of Water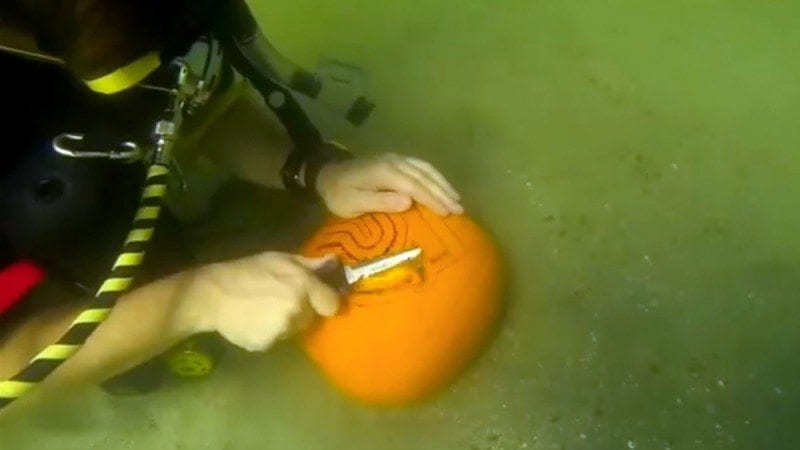 Since its 2011 rebranding, Polk State's logo has appeared on a hat worn in California, a shirt worn at Mount Rushmore, as tattoos on various body parts, and now, a pumpkin carved in the ocean.
Last Saturday, Biology Professor Joey Maier and student Josh Baker traveled to West Palm Beach, where they used a template to draw Polk State's shield on the side of a pumpkin. Then, after digging out the seeds of the pumpkin, they donned their scuba-diving gear and dove under the waves. When they were about six feet down, Maier used pumpkin-carving tools borrowed from his young nephew, as well as his dive knife, to etch the shield. The entire process took about 20 minutes.
"It's cool that I got to display the logo underwater," Maier said. "My family all took classes here. I took all my fine arts credits here. I'm happy to work here and represent Polk State."
Baker carved a shark into his pumpkin. Watch a video of the process here.
As for what it's like to carve a pumpkin in several feet of water:
"The hardest thing is that they float," Maier said. "I had to put a 5-pound lead weight in my pumpkin to hold it down. Josh had to hold his down with his hand."
Maier has been diving since 1990, completing a total of 98 dives since then. He and Baker met during the College's First Flight Student Convocation for freshmen in August. Maier gave a presentation on his interests in kayaking and scuba diving, and Baker was instantly intrigued.
"I don't have (Maier) as a teacher, but he and I have a little bit of a connection, we found, in that we both have a passion for the ocean and marine life," said Baker, a resident of Winter Haven who is pursuing his Associate in Arts degree.
Baker, who recently became certified as a scuba diver, said the chance to dive with Maier taught him a lot more than just what it's like to carve a pumpkin in the ocean.
"We saw a lot of sponges, crabs, fish and stingrays. It was really awesome to witness it all. You see those things in videos and pictures, but when you go down there and witness it firsthand, that's the best way to find your connection to the ocean and find the passion to get involved with conservation," he said.
Baker hopes to start a scuba-diving club at the Winter Haven campus, and Maier hopes to begin incorporating diving into his classes. Interested students may contact Baker at joshuabaker07@gmail.com or Maier at jmaier@polk.edu or 863.298.6894, ext. 5160.