Polk State's Chief Diversity Officer: Colleges are not brick & mortar, they are flesh & blood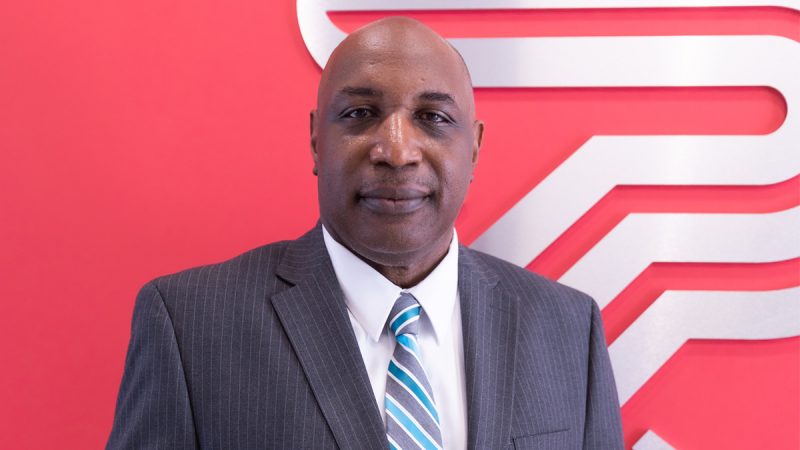 Lonnie Thompson is no stranger to the Florida College System or serving in the areas of equity, diversity, and inclusion, bringing more than 20 years of experience in higher education to Polk State College.
He joined Polk State in March as the College's Chief Diversity Officer, most recently serving as Director of Equity, Inclusion, Title IX, and Counseling and Accessibility Services at Daytona State College.
"I ended up here by accident," he shared of his career in higher education. "Out of college, I became an Army officer. This was a time in the military when discrimination was rampant and diversity courses were being developed. I was stuck on base and was volunteered. Initially, I was resistant – I was an infantry officer, not an equity officer."
"Then I saw the positive impact it was having on individuals," he explained. "I realized that as people grew from it, I also grew from it."
He served as an equity officer in Germany and Korea before completing his service in the Army and returning to his hometown to work at Indiana University. He holds a master's degree from Indiana University and a bachelor's degree from Fort Valley State University.
Thompson grew up in Gary, Ind., where he recalls cold and early mornings being bussed to a school far from his home during the days of federal desegregation. His high school was near Lake Michigan and in the winter, the frigid wind and rain would freeze the school's backdoors shut.
As a high school athlete, he traveled to the Sunshine State with his teammates and coaches for college tours. He later returned with his wife for vacations in Orlando, where they relocated in the early 2000s.
"One of my first goals is to get out to all the communities in the College's catchment area… to develop goodwill and better understand the citizens our College serves."
Thompson recalls a drive around Central Florida where he recognized Seminole State College from his high school tours. He decided to walk in and inquire about job opportunities. The application period for a student advisor position was closing that day. He quickly applied and was hired.
"Back then, you were limited to that pool of applicants who walked in and filled out an application," he said. "Now you have to compete on a global scale with applications available online, giving anyone, anywhere, the ability to apply."
Cultural understanding and adaptability are critical for that global competitive edge, explained Thompson, who has spent time with Polk State freshmen in the First-Year Seminar course presenting on the topic of professional diversity.
"I'm between the Baby Boomer and Gen X generations. As a practitioner, you need to understand where you come from and where your audience comes from," he explained. "If you can't adapt to what's coming, you'll become extinct."
He also noted the importance of having an open mind and an open heart.
"You can be missing out on opportunities to learn and benefit from other cultures and demographics," Thompson said.
This mentality applies at the institutional level.
"Growing your own is a must; our employees have immense institutional knowledge and a great commitment to our college."
In his role as Polk State's Chief Diversity Officer, Thompson oversees equity, diversity, and inclusion initiatives, Title IX enforcement, and compliance with the Americans with Disabilities Act.
"One of my first goals is to get out to all the communities in the College's catchment area, to meet groups such as the Concerned Citizens of Polk County, rotary clubs, religious groups, veteran's associations, etc. to develop goodwill and better understand the citizens our College serves," he said.
The College has also initiated the Title V process. Polk State was recently designated as a Hispanic-Serving Institution as its Hispanic student population has exceeded 25 percent. This makes the College eligible for Title V federal grant funds that support institutions that enroll large proportions of minority and financially disadvantaged students.
Thompson said there is a focus on growing the College's underserved student and employee populations, while also providing a faculty and staff that is reflective of the student demographic they serve.
"I want to ensure that our recruiting practices give everyone access to employment opportunities at Polk State. This includes partnerships with diverse institutions," he explained. "We must also be dutiful in expanding our internal development and succession practices.
In his first year with Polk State, Thompson aspires to develop a College-wide diversity committee that can hone in on these areas including professional development and diversity training for employees.
"At Polk State, we want to provide the best possible atmosphere for our students and that includes one that values equity, diversity, and inclusion."
"My hope is that it will be a collaborative, grassroots effort driven by the stakeholders," he said. "My role will be to pilot it, provide for it, protect it, and promote it."
He noted Polk State's family-like atmosphere and thanked President Angela Garcia Falconetti, faculty, and staff for welcoming him so graciously to the College.
"Colleges are not brick and mortar, they are flesh and blood," he said. "One contact on campus can impact a student's life, trajectory, and Polk State experience. Everyone should consider themselves an agent of the College. At Polk State, we want to provide the best possible atmosphere for our students and that includes one that values equity, diversity, and inclusion."