Polk State Offering Free Training Program for Entry-Level Manufacturing Jobs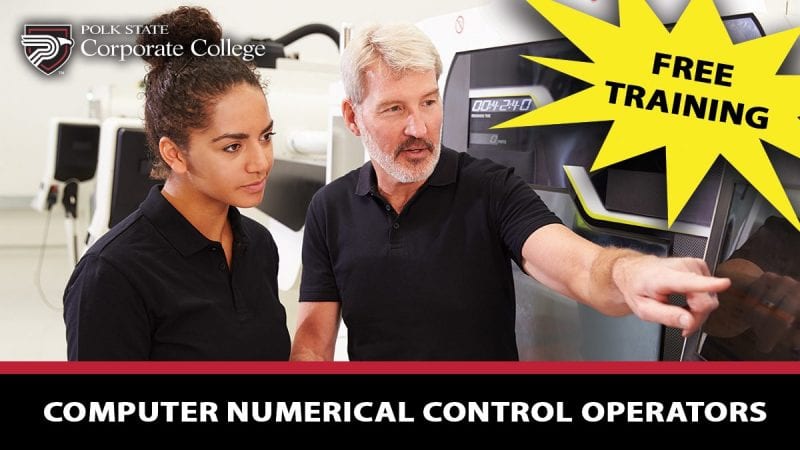 Polk State College is offering free training for those seeking entry-level positions in the manufacturing industry.
The next session of the College's CNC Operator Training Program begins Aug. 15. Classes take place Monday-Friday from 8 a.m. to 5 p.m. at the Polk State Clear Springs Advanced Technology Center, 310 Technology Drive in Bartow.
During the eight-week training program, participants will acquire the skills needed to work as entry-level CNC operators. CNC — computer numerically controlled — operators develop programs that control the machining or processing of metal or plastic by automatic machine tools, equipment or systems, according to the U.S. Bureau of Labor Statistics.
The BLS estimates the median annual wage of CNC operators nationwide is $51,630.
Participants in Polk State's training program will study industrial safety, blueprint reading, geometric dimensioning and tolerancing (GD&T), metrology, shop math, and basic machine tool operations.
To be eligible for the program, prospective participants must be at least 18 years old and pass the TABE test.
Additional training sessions will be offered in October, January and March.
The program is offered free of charge thanks to a $12 million Department of Labor grant awarded to the Southeastern Economic and Education Leadership Consortium, a partnership between six colleges in Florida, North Carolina and Tennessee, including Polk State, that aims to improve the skills and employment of individuals working in the manufacturing industry.
For more information, contact Senior Program Specialist Lee Autrey at lautrey@polk.edu or 863.297.1010.