Polk State Metallica Scholar goes from strenuous jobs to rewarding career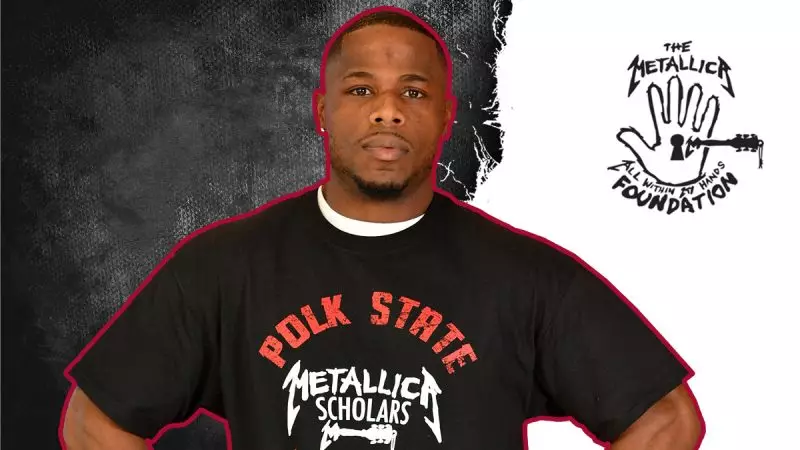 From working in roofing, construction, truck driving, and warehouses, Billy McGahee has spent most of his life jumping from one physically-demanding job to another. At 36, he decided it was time for a change and a less strenuous, more stable career.
"I have done a lot of jobs and tried to leave for so long to find something career-driven with more longevity and better compensation," the father of two explained. "For me, it was a now or never moment."
That's when he learned of the Metallica Scholars Initiative at Polk State College which offers free, quality training for students in the Computer Numeric Control (CNC) Machining Program.
"Once I joined the CNC Machining class, I was dumbfounded," McGahee said. "I realized there is always room for learning and growth."
CNC machinists are trained to operate machinery that precision-cuts, grinds, or drills materials. They serve as the technicians who make adjustments to control the speed, the material fed, and the path of the cut, and ensure that machines are set up properly, working efficiently, and producing high-quality products.
Machinists create a variety of products using CNC technology including medical instruments, airplane parts, and food packaging, and they are in high demand with more than 100 machining companies in Polk County. The need for CNC machinists is forecasted to increase 17 percent nationally in the next five years – well above the average growth of other occupations.
"The class gives you the tools and knowledge to know what it takes to make a part. It takes attention to detail, sometimes down to a decimal of a fraction," McGahee said. "You have to work at it. You have to apply yourself. But I can guarantee that you won't leave empty handed."
In addition to free, fast training, completers of the program become eligible for careers with starting pay between $18 and $30 an hour.
McGahee completed the eight-week program in December and graduated with the first cohort of Polk State's Metallica Scholars. He is now employed with American Vulkan Corp.
The Metallica Scholars Initiative provides scholarships for unemployed or underemployed individuals to complete the eight-week CNC machining training through Polk State Corporate College as well as funds for students to take exams for six National Institute for Metalworking Skills (NIMS) certifications that qualify them for in-demand, high-wage careers.
Polk State is one of 15 schools across the nation to receive a $100,000 grant from All Within My Hands, a nonprofit organization founded by members of the band Metallica dedicated to creating sustainable communities by supporting workforce education, the fight against hunger, and critical local services.
"I thank Metallica for this opportunity. I am very appreciative because this is something that will change my life," McGahee said. "There is never a downside to education."
Polk State is enrolling for future classes of Metallica Scholars which will begin March 8 and May 17. Individuals who are interested in the program and scholarship opportunity should contact Coordinator Jamie Rowan at jrowan@polk.edu or 863.837.5954. More information is available online at www.polk.edu/metallica.