New Dean April M. Robinson Still a Professor at Heart; Students, Go Meet Her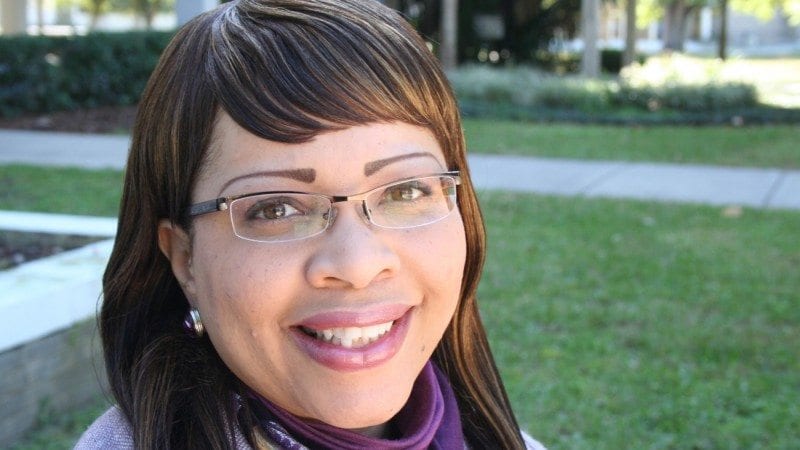 Polk State's April M. Robinson is heading into her first fall semester as Polk State Winter Haven's dean of academic affairs — and she can't wait to get started.
Robinson began her new position on July 23.
Previously, she had worked as Polk State Winter Haven's associate dean of academic affairs, a role she'd held since early 2012.
As dean of academic affairs, she replaces Martha Santiago, who was named provost of the Winter Haven campus in May.
"She has a vast knowledge of student services and academics. She works extremely well with students and she has a big picture perspective of how the College works," Santiago said.
Now that she's all settled into her new office, Robinson said she is excited by the work that lies ahead.
"I'm a career educator," Robinson said. "This is my life's work, and I truly believe my purpose is to serve faculty and students."
As dean of academic affairs, Robinson helps develop new degree programs in response to demand from students and employers. She's also involved in building each semester's course schedule and supervises all Winter Haven-based program directors and faculty members.
"In the position of dean, I get to shape policies and procedures. I get to evaluate faculty members to help them enhance their instructional strategies. When it comes to the College budget, I will advocate on behalf of the faculty, so they can get the resources they need to become better at what they do," Robinson said.
"I can make an even greater impact for the students every day, and that's what I plan to do."
Robinson, a Pensacola native, has a bachelor's degree in criminal justice and a master's degree in public administration from the University of West Florida. She is currently pursuing a doctorate in education with a concentration in organizational leadership at Nova Southeastern University.
Robinson began her career in higher education teaching political science at Pensacola State College. Like Polk State, Pensacola State is part of the 28-institution Florida College System.
From the classroom, she went on to become UWF's criminology program coordinator. She also held positions at the former USF Lakeland and Hillsborough Community College before joining the staff of Polk State.
Robinson may have traded the classroom for an office, but she remains an educator at heart.
One of her first initiatives as dean has been partnering with the College's SALO (Student Activities and Leadership Office) for events aimed at increasing civics literacy. Throughout the academic year, local city managers will be visiting the Lakeland and Winter Haven campuses to talk with students — both in classes and at special SALO-sponsored events — to help them better understand how their municipalities work.
"People think that change exclusively happens at the federal level, but the most likely place for making direct change happens at the local level, with your local school board or your local government," Robinson said.
"Our students need to become more knowledgeable about decision- and policy-making at the local level."
As students return to campus in the coming days, Robinson encourages them to stop by for one of her "mini-lessons." She savors the opportunities to talk with students about everything from time-management strategies to the writings of Booker T. Washington, the educator and civil rights activist who's influenced her own career.
Robinson keeps a copy of Washington's book, "Character Building," in her office. She reads it once a year, and often quotes from it in her meetings with students.
"He writes about humility and integrity as two essential character traits," Robinson said. "It does not matter where our students want to go after Polk, regardless what career they're interested in pursuing, they need to have a moral compass."
Robinson's new office is located in WSC 101. She can be reached at arobinson@polk.edu or 863.297.1020.
Read Robinson's previously published profile here.