Associate Dean Aims for Polk to Be "The Place" to Teach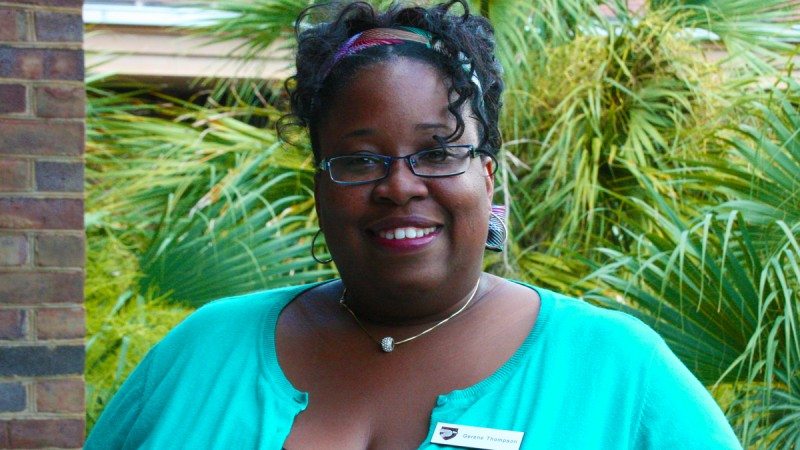 After nearly two decades in higher education, Gerene Thompson is right where she wants to be: an institution where a college degree is within reach for anyone willing to work for it.
Thompson joined Polk State Lakeland in June as an associate dean of academic affairs.
"Education is the gateway to success for so many people. That's why I'm such a big proponent of open access," she said, explaining that Polk's open-door policy was a huge factor in her career move.
"People come to institutions such as Polk State College looking for a better life, and we have an obligation to provide them the opportunities and tools to build that better life."
In her position, Thompson will focus much of her attention on improving the experience of adjunct instructors, who will then in turn provide a better experience to students.
It's a job she approaches with a wealth of relevant experience and education — plus a true passion for her work, said Dean of Academic Affairs Donald Painter.
"She has an infectious enthusiasm and very positive attitude. She is going to help students succeed," said Painter, who oversees Thompson.
Thompson earned her bachelor's degree in Pre-Law and History from Barry University in Miami Shores, as well as master's degrees in History and Education from Midwestern State University and the University of South Florida, respectively. She is currently a doctoral candidate in Higher Education Administration at USF.
A career in higher education is not what she planned while growing up in St. Martin. Inspired by the 1950s legal drama Perry Mason, she wanted to become an attorney, a profession that would draw on her natural inclination to protect and advocate for others.
As she progressed in her education, the financial realities of law school set in, and she put that dream aside.
For six years beginning in the late 1990s, she worked in administration for a St. Martin timeshare resort, overseeing sales and marketing.
During the same period of time, she began teaching as an adjunct instructor for the University of St. Martin, delivering courses in English, History and the First-Year College Experience.
Teaching proved her foray into a whole new career. She went on to become director of admissions at St. Martin. Most recently, she was at the University of South Florida, where she worked as director of academic and student services at its University College, which helps adults who may have been out of the classroom for long periods of time to finish their degrees.
While the twists and turns of life took her away from her childhood aspirations, she said the part of her that wants to help others is still very much fulfilled.
"I have the opportunity to help people find their path, and to support people along the way," she said.
Her interest in moving to the Florida College System — which encompasses 28 institutions, including Polk — was piqued by its addition of bachelor's degrees to target specific workforce needs. Polk, for instance, now offers the Bachelor of Applied Science in Supervision and Management, Bachelor of Science in Nursing and Bachelor of Science in Criminal Justice, and other four-year degrees are in development.
"The state colleges are offering a different perspective on education by branching out and offering the four-year degree," she said. "But they're still maintaining open-access, even though they've bumped it up and are offering the opportunity to do something at a higher level."
In her three months at Polk, she had been particularly taken by its deep connections with the community, from the employers who help shape its programs to the number of students — more than 24,000 annually — it serves.
"I've been amazed by its impact. You can see in action what this college means to the community. This college is doing important work," Thompson said.
Thompson will support that "important work" by supporting the Lakeland campus's adjunct instructors, which number about 80 in any given academic year.
Adjunct instructors must have either a master's degree or a minimum number of credit hours in their discipline, and work on a part-time basis.
Thompson aims to improve the orientation and professional development opportunities for adjuncts and, working with her counterpart in Winter Haven, Associate Dean of Academic Affairs April Robinson, find new avenues for recruitment.
Robinson said she's excited to have Thompson at the College.
"She started at the College on June 10, and our adjunct job fair was July 16. She jumped right in and didn't hesitate to organize, make contacts and follow-up with inquiries about the job fair," Robinson said. "She is assertive, self-directed and motivated to work closely with our adjuncts."
Thompson will also facilitate an adjunct mentoring program, which pairs adjuncts with experienced instructors during their first semester.
"I'm hoping to really make Polk State the place of choice for adjunct faculty, where people are falling over themselves to get here," she said. "We can make ourselves unique and distinct from other places by offering the best professional development practices and opportunities."
Her door — fittingly enough given the policy that drew her to Polk to begin with — is certainly always open to adjuncts, and she's more than willing to share her own experiences for their benefit.
She recalls those first days in the St. Martin University classroom and all the emotions that came with it.
"I remember the anxiety, and over-preparing, feeling like I had to know everything before the class because all the students are looking at you like you're a fountain of knowledge," she said.
"You have to learn not to take yourself so seriously, and to be more a facilitator than the old 'sage on the stage.'"
Ultimately, Thompson learned to set clear expectations for her students — she's a fan of rubrics — but also that students learn in very different ways. Having students reach the course objectives is more important than how they get there, she said.
"Not every student's project or paper will look the same, but as long as the major points are there, that's what matters," she said.
By way of introducing herself to her new colleagues, Thompson said she'd like them to remember one thing above all else:
"I am really loyal to the place I work, and I get very involved in the culture and climate. A lot of the things I've seen about Polk State so far are fantastic and I love. This is a great place to work. I want to re-create that for our adjuncts, so that they also feel this is the best place to teach."