Five Questions with Joey Maier: Shark Tagging, Scuba Diving, and Living His Dream of Being a Biologist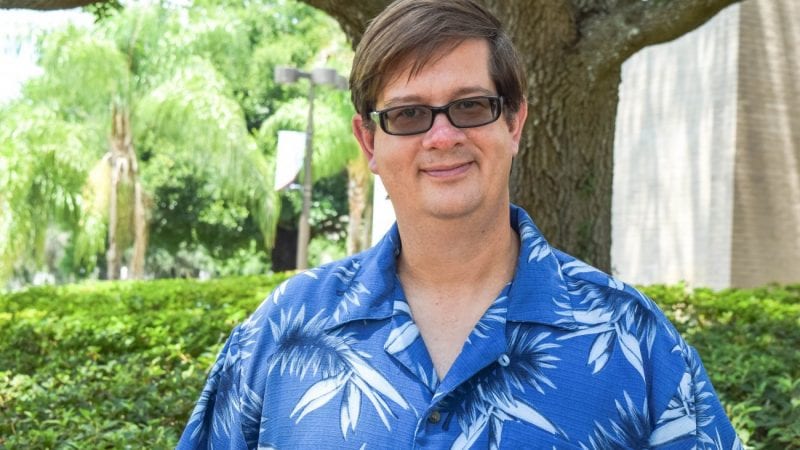 At 6, an age when most children are dreaming of becoming superheroes, firemen or rock stars, Joey Maier wanted to become a biologist.
He was curious about all living things, from trees to birds, fish to flowers, but especially things that lived in the water — and he set out to learn everything he could.
He voraciously read "Ranger Rick" magazine and books by nature writer Sam Campbell. He spent his childhood in Colorado, and at age 15, worked as a junior park ranger at South Platte Park, where he swam with the resident beavers.
Each year, his family visited EPCOT, where he spent countless hours at EPCOT's aquarium, then known as The Living Seas.  During his junior year of college, he took a semester off and came to Florida to work at The Living Seas as a marine mammal research intern, helping researchers who were studying dolphin communication.
He earned a bachelor's degree in biology from Andrews University and a master's degree in physiological sciences from Oklahoma State, where he studied bone development in bottlenose dolphins.
In 2004, Maier brought his passion for biology to Polk State College. Since then he's developed a reputation for being a professor who takes a hands-on, innovative approach to teaching. Most recently, he spearheaded a semester-long, interdisciplinary underwater robotics project. Students participating in the project built an underwater robot that science classes will use for data collection.
Outside the classroom, Maier can often be found scuba diving, kayaking, or volunteering with one of the area research groups that tag sharks.  This August, he'll be traveling 1,000 feet below the surface of the Caribbean Sea to the "twilight zone," the level of the ocean that receives only faint, filtered light.
Here, the professor who dreams of one day teaching in an underwater classroom, discusses his love for biology, how he works to instill that same passion in his students, and the shark species that is on his must-see list.
What have been some of the greatest inspirations in your career?
I knew I wanted to be in this field at a very young age. I read voraciously, almost always about animals and nature.  The first book I ever purchased with my allowance, back in third grade, was "Nine True Dolphin Stories." I have been inspired by many people, so it's hard to just choose one particular person. Recently I got to meet Sylvia Earle, and that is an experience I will always remember.  She's not just famous as a biologist, she's also a pioneering female diver, an aquanaut, and the former head of the National Oceanic and Atmospheric Administration. She is so famous that she's called "her deepness." It was sort of like meeting Abraham Lincoln — not just meeting the president of the United States, but a really famous, historically important president.
Outside the classroom, you're often involved in projects, research, and hobbies related to your field. Can you describe these activities? 
I try to keep "one foot in the water," spending plenty of time in and around the ocean so I can bring experiences from there into the classroom. I enjoy scuba diving, and I like to dabble in underwater photography and videography. Recently, I've been trying to put together a video on fish camouflage using scenes from my own footage of flounder, scorpion fish, etc. I use these videos in my biology classes, and share them on my YouTube channel (his channel is called "Joey Maier").  I also like kayaking on the Peace River, and tend to hunt for fossils on those trips.
You are passionate about the environment. In fact, you hope to use the underwater robot that Polk State students built to help future students better understand the impact of water pollution. What one thing do you most want people to know about our environment? 
The problem is people think recycling is good enough. Eliminating the unnecessary use of plastic is actually more effective and less expensive than trying to clean it up afterwards.  Plastic breaks into tiny pieces that pollute our oceans and microscopic bits of it are being incorporated into our foods.
I understand you keep a list of shark species you've seen, but there is one species that has managed to elude you. What is it and why is it important to you that you see it one day?
Yes, I keep a checklist on the wall of my office listing species I've seen.  Obviously, there are hundreds of species I've never seen.  Anything I haven't seen before would be fun to encounter, but I'd love to see something exotic and deep-water, like a goblin shark.  One of the high points for me so far has been scuba diving with whale sharks.  It is exciting to know that you're with the largest species of fish in the world.
What are your tips for your students looking to further their experiences, whether in biology or in something completely unscientific? 
Read everything you can get your hands on. In the era of open publishing, many research labs make their work available to the public.  Get as much hands-on experience as possible, if you cannot find a paid position, volunteer.  That will give you practical skills that will set you apart from all the other candidates who want the same position.  Network as much as you can, join professional associations, meet people and stay in touch. Always take advantage of internships, you meet people, and gain skills that will eventually take you into a great job. I keep postings of current internships right outside my door for the students to take advantage of the many opportunities available.
Professor Maier's office is located at Polk State Winter Haven in WSC 116. He can be contacted a jmaier@polk.edu. 
At Polk State, students study a broad range of natural and physical sciences, either as requirements for their Associate in Arts degrees prior to transferring to four-year institutions, or entering one of the College's bachelor's or Health Sciences programs.