Donald Painter: The Dean Who Is "Driven" to Help Students Change Their Lives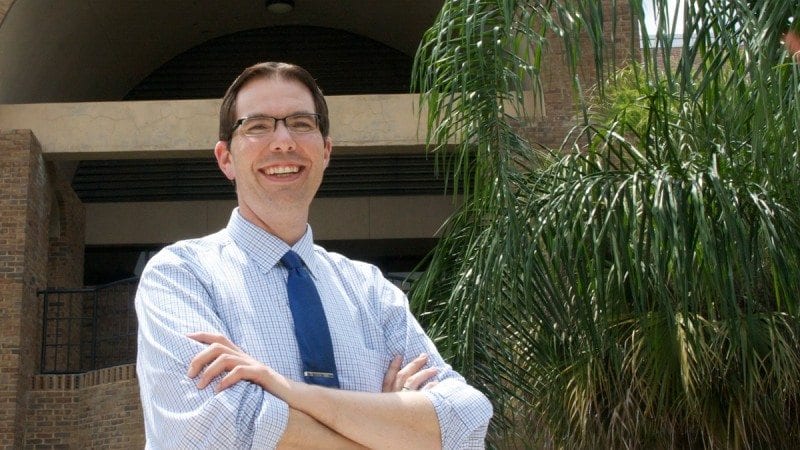 In a school-principal way, Donald Painter can be kind of intimidating.
He has the very official title — dean of academic affairs. He has the assertive voice, the neckties, and the assistant who announces visitors to his office.
But when you learn he scraped by in high school with a C average, and that he likely wouldn't have gone to college if not for a good friend with a car, the "high-ranking administrator" persona gives way to something much more relatable.
Really, he's just a guy who got a second chance at a place much like Polk State College.
"Community college changed my life," Painter said. "As dean, everything I do is about helping students get the education that will help them change their lives, too."
Painter grew up in St. Petersburg. His mother, a nursing school graduate, worked as an R.N. His dad currently works in the hospitality industry.
As Painter neared the end of his high school years, he expected he'd go straight to the workforce, too.
"I was not a strong student in high school, I have no hesitation in admitting that," he said. "I had no money, no car, and a 2.75 GPA. I didn't think college was for me."
But Painter's best friend was headed to St. Petersburg College; like Polk State, SPC is part of the Florida College System. This best friend also had a car.
"So we signed up for classes at the exact same time," he said. "That was the only way I was going to get to go."
When he first started at SPC, even despite his mediocre high school grades, Painter planned to become a doctor.
"Then I took a biology class and failed," he said. "I think I passed it on my second or third attempt, but my mom, being a nurse, said that if I couldn't pass biology, being a doctor probably wasn't going to happen."
Soon enough, Painter joined SPC's speech and debate team.
"I realized that I liked that enough to teach it," he said.
Painter, whose every career move has been methodically planned — in fact he's baffled by those who say they just "fell into" their careers — went on to the University of South Florida, where he earned bachelor's and master's degrees in communication.
All the while, he worked in retail, becoming a manager of a Bath & Body Works by his early 20s. Painter said his retail experience, while seemingly unrelated to his current role of dean, in fact taught him important lessons that he still uses today.
"It was really great practice for teaching college," he said. "I had lots of employees who were college-age, but also employees who were older than me — just like in my classroom. I learned that being successful in a position of authority means you have to be confident. You have to be competent and communicate competence. You also have to check the ego at the door and treat people with respect. Respect begets respect."
Halfway through his master's degree, Painter took his management experience into the classroom, becoming an adjunct professor of public speaking and communication.
Seeing his adjunct work as a path to a full-time faculty position, Painter became what is known in professor circles as a "freeway flyer." At one time, he was teaching classes at Hillsborough Community College, SPC, USF and Polk State, running his odometer ragged, but quickly building a teaching resume.
The time he spent as an adjunct also afforded him great insight that he would draw on once he entered administration. Polk State employs approximately 500 adjunct instructors, and giving them a positive experience — as Painter learned firsthand — means communicating with them, offering them professional development opportunities, and pairing them with an experienced mentor. He found all three at Polk.
"Polk State was by far the best place that I taught," he said. "When a full-time position came open in spring 2006, I jumped at it."
Painter was a full-time professor for five years, during which time he — again with careful planning — decided to aim for administration.
By 2011, Painter had reached that goal, becoming associate dean of academic affairs. Less than a year later, he moved up another rung to his current position.
"As a dean, I schedule classes, hire faculty, and help the faculty get whatever they need to be the best professors they can be — from professional development opportunities to chalk," said Painter, who supervises all full-time faculty members and program directors at the Lakeland campus.
"I like to say that I help give our faculty the power to help our students be successful."
Painter also has a big role in improving the College's existing degree programs and creating new ones to meet student demand and the needs of area employers. A few of the recent initiatives he's had a part in: the Bachelor of Science in Aerospace Sciences that will launch in August, the newly revamped Medical Coding Specialist certificate program, and a new Associate in Science degree in Web Design and Development also launching this fall.
"These are all areas that students are interested in studying, and we have data to show that there are jobs available in all three of these fields," he said. "That's something that I'm always very proud of about Polk. We don't launch programs just to launch them. We create programs that we know are going to help students get jobs and make their lives better."
Painter, by the way, is about to become a doctor after all — he's in the process of completing his doctorate in higher education administration at USF. He still lives in St. Petersburg, where he can be near his dad; his mother passed away twoyears ago.
The drive to Polk is an hour and 15 minutes, but it passes quickly, in part because he spends it listening to electronic dance music — his favorite — but mostly because he knows great things that are waiting for him at his destination.
"I'm always in awe of the challenges our students face. They have children and jobs, and they come to class and graduate," he said. "As an administrator, I get in my car every day and say, 'How can I serve them? How can I make a difference for our students?' Knowing that's what I do for a living — help students — it's a great feeling."
Painter's office is located in LLC 2278. He can also be reached by phone at 863.669.2929, ext. 6438, or email at dpainter@polk.edu.