Network Systems Engineering Technology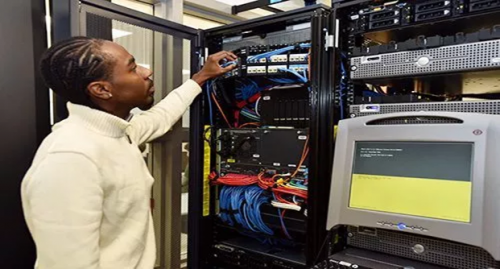 Network infrastructures are the backbones for industrial and consumer computer systems. Students entering this field will gain the skills needed to handle the installations and maintenance of servers, routers, switches, virtualization and security technologies. The Associate of Science in Network Systems Engineering Technology provides students with the skills needed to enter the network infrastructure or cybersecurity industry. This program consists of 60 credit hours of which 17 hours are general education, 22 hours are program core courses and 12 hours of specialization. The program core curriculum focuses on providing candidates with the knowledge and skills necessary to install, administer and maintain computer network infrastructures across a variety of industries including product manufacturing, transportation, telecommunications and business management.
The Network Systems Engineering Technology program also offers industry-level certificates. These certificates can be completed in a standalone environment or as a part of the AS degree track. Each certificate focuses on a specific skill set used within the computer network environment.  These programs put students on the fast track to reaching their career goals. They are designed to equip students with a specialized skill set for immediate employment or career advancement. Certificates can be completed in one year or less. Certificate programs include:
Network Infrastructure Services (21 credits)
Network Security (21 credits)
*All three certificates are embedded within the AS degree track and will be acquired by students completing the AS degree.